*This post may contain affiliate links. As an Amazon Associate we earn from qualifying purchases.
What is the first thing you think about when you wake up in the morning? If your answer is a rich, steaming cup of coffee, you are not alone. According to the National Coffee Association, about 83% of American adults start their day with a cup of joe. To enjoy coffee with the finest flavors, make sure that you invest in a good quality coffee maker.
If you are planning to buy a coffee maker anytime soon, we encourage you to read this blog post first. In this blog post, we have made a list of some of the features you should look into when shopping for a coffee machine. By taking these things into consideration, you can make a more informed decision and find the best machine that would suit your needs.
Here are some of the features you should look out for when buying a coffee maker.
Your Needs
With the wide variety of at-home coffee machines in the market, choosing the best one can be a daunting process. We all have different wants and needs. To make the buying process easier, you may want to work out what you need first.
Some prefer an espresso while others are a fan of cappuccino. No matter your preference, there is a coffee maker out there that will make you the perfect cup of java to kick-start your day. A single-serve espresso machine is ideal for those who live alone. Not only is it more convenient, it also prevents coffee waste. With this machine, you will no longer have to throw away stale coffee that has been sitting in the pot the whole day. Rather, you'll only make enough for yourself.
Convenience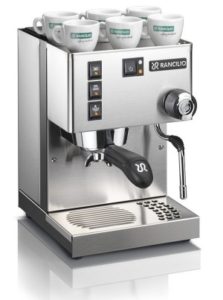 Image Source:www.theedgecoffee.com
Most people opt for a semi-automatic or automatic coffee machine because they are convenient and easy to use. These machines will do almost everything for you – grind beans, dose coffee, tamp the task, and even discard used grinds. All these can be done with just a push of a button. Since they make coffee quickly, it can also come in handy when entertaining guests. Semi and automatic machines are recommended for those who want their coffee at a push of a button.
Manual espresso machines, on the other hand, are about as hands-on as you can get.  They are totally dependent on the operator to pull the perfect shot of espresso. Unlike automatic machines, users have more control over the coffee-making process. It gives you the freedom to brew coffee according to their taste and preference.
It may be frustrating at first, but once you master the art of making coffee, you'll find yourself enjoying your cup of joe even more. Not only will the quality of your coffee be light years ahead of automatic machines; you will find it more satisfying since you made it. These machines are perfect for those who barista coffee at home.
Quality of coffee output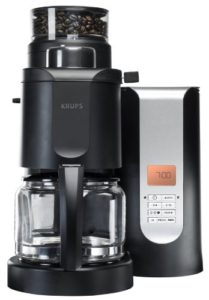 Most people assume that buying a good quality coffee maker and freshly roasted beans are enough to make amazing coffee at home. What they fail to realize, however, is the importance of a grinder.
Whole bean coffee that is grounded a few minutes before brewing is the key to making a great cup of coffee. However, most people don't own a grinder. Others would skimp on the grinder, thinking that it won't have a significant effect on quality of coffee output. Investing in a good quality grinder that results in uniform-sized grounds can make coffee that is far superior to your average cup.
If you're really into good tasting coffee, we highly recommend that you choose a coffee maker that comes with a built-in grinder. The best coffee makers are equipped with burr grinders. Burr grinders give you more control over your grind than you do with a blade grinder. Plus, the beans will be ground in a uniform size. Remember, you will never taste everything a top-shelf coffee has to offer if you don't grind your beans to the right specifications.
Cost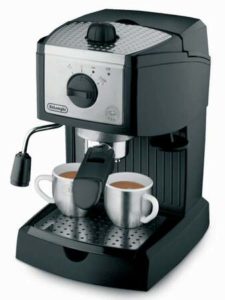 Image Source: www.nutsaboutcoffee.com
For most people, cost usually plays a big factor in their buying decision. Often, people want to save as much money as they can. However, making a decision based on the price alone is a recipe for disaster. Often, cheap appliances don't perform well.
If you are a coffee lover, we can clearly say that the coffee maker is one of the most important appliances in your kitchen. If you are going to spend money on a coffee machine, make sure that you invest in the best one that you can afford.
Buying a coffee machine is not just a one-time expense. When shopping for a coffee machine, you need to think about the long-term cost. This is especially true for capsule machines. Most of these machines only use their own coffee pods exclusively, which can be quite expensive. In fact, the cost of a single pod is equivalent to two cups of coffee made from an espresso machine. Don't just consider the upfront cost. You also need to factor in future expenses.
Ease of maintenance
Image Source: www.coffeearea.org
Cleaning any appliance can be arduous. Leading a busy lifestyle, most homeowners don't have enough time to tackle household chores, let alone make time to clean their espresso machine. However, cleaning and maintenance are of utmost importance. Not only will it ensure better-tasting coffee, you'll also enjoy the machine for the years to come.
If you are a busy professional, you may want to consider how easy it is to clean and maintain the equipment. Also, make sure that you wash cups, frothing equipment, and water receptacle after every use.
Aesthetics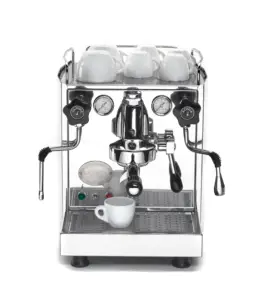 Image Source: www.elixircoffee.com
The kitchen is one of the busiest rooms in the house. Aside from meal preparations, most homeowners use it for dining and entertaining guests. As such, you want to make sure that the kitchen is both beautiful and functional.
Most espresso machines look nice. What you have to consider, though, is how it will complement with your kitchen's interiors. If most of your appliances are stainless steel, a coffee maker with stainless steel casing would be the best choice for you. Although coffee machines with black and white casing look sophisticated, they may stand out in a haphazard way in a kitchen filled with stainless steel appliances.