*This post may contain affiliate links. As an Amazon Associate we earn from qualifying purchases.
If you are a coffee lover, you already know that a good cup of coffee is not easy to come by. Most people go out of the way to buy best quality coffee beans on the market to ensure that they make delicious coffee again and again. If you want to make cafe quality beverages at home, you need to invest on the equipment. For aspiring home baristas out there, we suggest that you invest on the best manual coffee grinders and espresso machine.
Coffee beans can easily go stale after roasting. They also release all those flavors and aromas after grinding. Living in a busy, fast-paced world, many of you may find grinding coffee impractical. Sure, it may be time-consuming, but this is the way to go for devoted coffee lovers.
There is nothing quite like the experience of grinding your coffee beans. When brewing coffee, you want to make sure that the grinds are a consistent size and texture. While good quality grinders play a huge role in the coffee making process, many home brewers are hesitant to get one due to their high cost. In this case, you may want to consider getting a hand grinder.
The best manual coffee grinders are generally cheaper than their electric counterparts. They are also compact, lightweight, and can get you the right grind. These grinders often take prominent spots in roaster's websites and line the shelves of hip coffee bars.
Here's a list of some of the best manual coffee grinders on the market.
Kalita Coffee Mill KH-3 Retro One
The Kalita KH-3 Grinder is slightly old-fashioned looking. But if you are looking for the best manual coffee grinders that won't break the bank, this may be worth considering. It may be cheap, but the quality isn't compromised. In fact, it performs equally as well as the more expensive grinders.
Unlike other manufacturers, Kalita stuck to their roots.  With its genuine retro look, the KH-3 is definitely eye-catching. It has a simple design, composing of only 2 parts – the wrought iron hopper and the polished wooden container. Despite its simplicity, the grinder allows you to adjust the grind for your chosen brewing style. It performs well in the fine to medium range. Overall, it provides great value for your money.
JavaPresse Manual Coffee Grinder
Particle size distribution is key to making a good cup of coffee. Your coffee will be more balanced and have more flavor if you brew with a consistent grind. This is something you can get from JavaPresse's grinder. It offers a decently consistent grind. Plus, it is compact and affordable.
The JavaPresse Manual Coffee Grinder is made of steel, so you can be sure that it is durable and sturdy. It has a window at the lower portion of the grinder, allowing you to see how much coffee is left. This grinder is designed to be compact and lightweight, making it a great option for those who are looking for a hand grinder for travelling purposes. It is perfect for slipping into your suit case.
Handground Manual Ceramic Burr Mill
The Handground manual coffee grinder is worth considering if you are on a tight budget. Despite being a budget grinder, it does its job perfectly and has a beautiful, modern design.
This grinder comes with 15 grind settings that is easy to adjust. It is capable of delivering the grind size you need for your desired coffee beverage. It is easy to use and will give you a quality, consistent grind. The Handground grinder is made from quality ceramic and aluminum, which ensures that it will serve its purpose for a long time. It is not surprising to know that it is one of best manual coffee grinders out there, and is a favorite among baristas.
ROK Aluminum Coffee Grinder
If you have a thing for high end manual coffee grinders, then the ROK Aluminum grinder may be just what you need. It is a high quality grinder that doesn't just look good, it is also capable of delivering a consistent ground. You can even manipulate the settings to get the grounds you need for both espresso and French Press coffee. Simply twist the wheel through the 12 available gradations to fine-tune the grind settings.
Overall, the ROK aluminum grinder would be a great addition to your kitchen. If you need an adaptable, uncompromising manual grinder and budget is not an issue for you, then we highly recommend that you get the ROK aluminum grinder.
Porlex Mini Stainless Steel Manual Coffee Grinders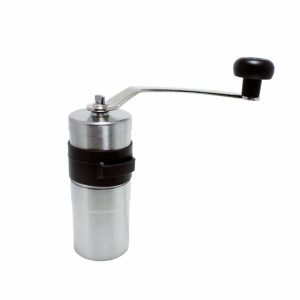 If you want a premium-looking hand grinder but the upscale ROK Aluminum grinder is out of your budget, you might want to check out the Porlex Mini. Durability is what sets this grinder apart from the others. Housed with stainless steel, it is the epitome of high quality grinder. It will put your longevity worries to rest.
The Porlex mini is highly functional. Plus, it is equipped with conical grinders that make manual grinding as good as it can ever be. Whether you prefer pour-over coffee, AeroPress or French Press, you'll get the consistency you need. It is also small in size and is extremely lightweight, so you can easily slip it on your backpack and take it with you wherever you go.
Hario Ceramic Coffee Milk Skerton
The iconic Hario Skerton is made from the highest quality glassware. The company aims to provide coffee lovers with a good quality grinder that is durable, easy to use, and easy on the pocket. What's more, it comes with ceramic burrs that ensure precise, uniform grind. It can even grind beans to your desired texture – from something fine enough for espresso to coarse enough for French Press coffee.
The term Hario means "the king of glass" in Japanese. It feels solid and robust enough to handle several years of daily use. The grinder is small and lightweight, but it does have a large capacity. In fact, in can accommodate up to 100 grams of coffee beans. That said, the Hario Skerton is a great option for coffee enthusiasts who are always on the go.