*This post may contain affiliate links. As an Amazon Associate we earn from qualifying purchases.
While coffee machines are pretty standard in American kitchens, there are still a lot of people who opt to visit the local coffee shop on their way to work. Let's face it, making good quality coffee can be a complicated and time-consuming process. Some machines are also quite difficult to use. If you are looking for a machine that produces espresso, lattes and cappuccinos in no time, consider getting a Nespresso coffee machine.
Capsule-based machines like the Nespresso coffee machine are ideal for those who enjoy drinking espresso and latte, but can't be bothered with messing around with coffee beans. What's great about these machines is that they produce consistently great results. Plus, they are quite easy to use. If you can get past the high price of the pods, we can't deny that Nespresso is a great system.
Before you go shopping for a Nespresso coffee machine, we urge you to check out our list below. This round-up will help you determine which of these machines best fit your needs and budget.
Nespresso Inissia
Price: $139.90
If you are on a tight budget, and you're just looking to dip a toe into the Nespresso coffee pod system, the Inissia is something of a no-brainer. This is a super simple machine that produces a regular shot of espresso and a lungo.
Considering its price, the Inissia delivers fantastic coffee. In fact, it produces espresso with a rich, full crema, and not a hint of bitterness. You won't be disappointed with the taste. The lack of a Nespresso milk frother can be a downer for some. That means, you won't be able to make cappuccinos or lattes. The good thing is that you can make as much espresso as you want.
The Inissia may appeal to those who are looking for a modern and stylish coffee maker. Despite the all-plastic construction, the Inissia looks amazing. In fact, it won't look out of place, even when placed beside a KitchenAid mixer. This machine comes in a wide variety of colors. If you're an extrovert, red or orange may appeal to you. If you want something more sedate, they also have white or black options.
Overall, this budget Nespresso coffee machine makes great-tasting coffee without putting a hole on your pocket.
Nespresso CitiZ and Milk
Price: $279.50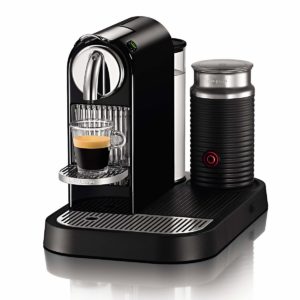 This certainly isn't the cheapest machine out there, but it comes with features that aren't present in any other models. This machine is equipped with a 34 oz. water reservoir. It has the largest reservoir of any Nespresso original line machine. Plus, it comes with a built-in Aeroccino 3 frother. It is also equipped with a capsule collecting container, and can hold up to 11 pods. That means, you no longer have to remove or throw used capsules after each brew. With all these amazing features, there is no doubt that this machine will deliver amazing results.
The machine is absolutely foolproof. The Citiz and Milk is quick to setup and the cleaning cycle is easy to follow. Just fill the water reservoir with water, turn the machine on, and run the lungo setting a few times.
The Citiz and Milk can create lungos, lattes, espressos, and frothy cappuccinos. For a capsule-powered single-serve brewer, the Citiz and Milk makes a damn good espresso. You can actually get a rich, near authentic crema. Although this espresso machine does create good quality coffee, there is no way it's going to beat an authentic barista-quality espresso.
With classic styling and some amazing features, this machine is the perfect accompaniment for any modern kitchen.
Nespresso Pixie
Price: $230
When you hear the word "pixie", small and compact are probably the first words that come to mind. And that's exactly what the Nespresso Pixie is.
The Pixie is one of the smallest machines in Nespresso's original line. This machine is so small, it can squeeze into any space in your kitchen, living room or office. The idea of having a coffee machine inside your office may be tempting, but the Pixie can be quite noisy. So unless you're willing to put up with the noise, this coffee maker will be great to have in your office for an afternoon pick-me-up.
Just because it's small and affordable, it doesn't mean that it doesn't perform well. In fact, it is a powerful machine that is capable of delivering a cup of coffee in record time. Thanks to its thermo-block feature, the Pixie reaches its heating temperature in as little as 25 seconds.
When it comes to aesthetics, the Pixie doesn't disappoint. It comes in a modern design and sleek finish. It is available in 4 colors – aluminum, steel, titanium and carmine.
Nespresso Coffee Machine VertuoLine
Price: $299
Image Source: www.cepagolf.com
If you are a cappuccino, latte or an espresso fan, but you don't want the fuss of grinding coffee beans or operating a complicated coffee machine, you may want to consider the VertuoLine.
Judging by the amount of positive feedback this coffee maker has received, you can tell that it is a great machine. It is easy to operate, looks stylish, and will heat up in as little as 15 seconds. Most importantly, it can make excellent coffee and espresso. We're not suggesting that the machine is flawless in every aspect, but it promises a user experience to rival any other.
This well-designed coffee machine will be a great addition to your home. This is a great choice for those who are looking for a more versatile coffee maker. It doesn't just make great tasting coffee, it is capable of producing the perfect cup of espresso, latte, and cappuccino, complete with an amazing crema. It brings the promise of fantastic coffee, all with the absolute minimum effort on your part. The downside is that the VertuoLine only accepts Nespresso-made pods.
Nespresso C122-US-CH-NE Citiz
Price: $124.49
Image Source: www.coffeenation.co
The C122 is one of the most popular Nespresso machines on the market. This chrome-plated espresso machine stands out from the rest because it comes with several features and amenities.
This piece of appliance is inexpensive, easy-to-use, and fast-acting. This will be a great investment for coffee lovers who want to start their morning with a shot of espresso. While espresso is usually served in a small cup, the Nespresso coffee machine C122 accepts a variety of cup sizes. It allows you to program different cup sizes, so your cup will fit perfectly.
The Nespresso C122 is easy-to-use. You don't have to be a barista to create the perfect espresso. All you need to do is to insert a small capsule in the machine and press a few buttons. You espresso will be done in less than a minute. It's that simple. Not only is the brewing process super fast, the resulting coffee is also amazing.