*This post may contain affiliate links. As an Amazon Associate we earn from qualifying purchases.
Subscription services have been booming over the years. With the rise of specialty coffee culture, more and more people are having their chosen beans delivered right at their doorstep. Coffee subscription boxes are not just convenient, they also allow you to sample the best and the freshest coffee beans available on the market.
With a growing number of companies hopping into the coffee subscription box bandwagon, it is easier now more than ever to explore new coffee.
As a coffee lover, nothing is better than discovering a delicious new brew. But with so many coffee subscription boxes out there, it can be difficult to determine which one is right for you. In the hopes of helping you find the right one, we've rounded up some of the most popular coffee subscription boxes on the market. Hopefully, you can find one that will make your early morning routine the best it can be. Give these boxes a try before settling down with just one.
Bean Box
Cost: $17 a month
There are plenty of great coffees out there, but Bean Box limits the subscription to Seattle roasters only. If you subscribe to Bean Box's monthly services, expect to receive coffee samples from Seattle's best roasters. This is what sets them apart from other companies.
Just like the other coffee subscription companies, Bean Box gives you the option to choose between a full bag of coffee and a flight of four different coffees in smaller bags. What's great about this company is that they curate the monthly coffee selection to your taste and preference. If you're a dedicated espresso drinker, they'll send you a new bag of espresso each month. If you prefer light roasts, your shipment will arrive with a new light roast bag every month. But if you are someone who likes to try a bit of everything, they'll send you four bags of beans ranging in flavors.
In addition to coffee beans, Bean Box will also provide you with a list of product suggestions to try with your coffee. That means you can add some cookies and chocolates with your coffee bags. They are trying to curate an entire coffee drinking experience.
If you have a hankering for Pacific Northwest Coffee, Bean Box would be a great option for you.
Angel's Cup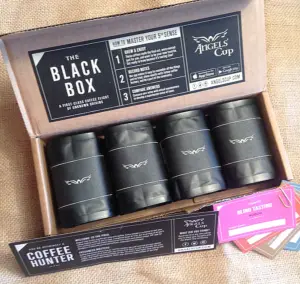 Cost: $21.99
If you are someone who enjoys exploring new coffee, then Angel's Cup would be the perfect coffee subscription box for you.
Angel's Cup delivers four new samples right at your doorstep, showcasing two different roasts from two different roasters. Each of these samples is marked only with the roast date and a three-digit serial number. They do not reveal the company's identity on the package; thus, allowing recipients to taste and assess coffee blindly. The origins and roasters are listed on accompanying cards.
In spite of being fairly new in the business, Angel's Cup has over 100 specialty coffee roasters on its roster. What's interesting about Angel's Cup is that they never send out the same sample twice. If you sign up for a 12-month weekly subscription, it means you'll be able to sample 208 different types of coffee for the entire year. You can choose your plans – weekly, bi-weekly or monthly.
Crema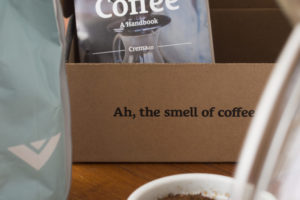 Cost: $16 and up
There are a lot of coffee subscription boxes out there that allow people to sample a variety of specialty coffees. These companies would send you a bunch of samples – some are fine, some you absolutely hate. This is something Crema wants to avoid.
They let users create an interactive taste profile. Upon registration, users will have access to their website and browse through their selection of coffee. Here, they can create their own brew list and add their desired coffee to their list. You can also search coffee by geography, roast level or certification status.
As opposed to submitting themselves to the somewhat random process of coffee curation, subscribers will receive coffee subscription boxes filled with samples that suit their taste and preferences. Surprise-avers and choosy subscribers will like this one.
Crema has a system that allows you to rate each coffee they send you. Over time, they'll be able to determine you're preferred tastes. This way, you can be sure that every sample they send you will be something you'll enjoy. After all, life is too short for bad coffee.
Mistobox
Cost: $15.99 per shipment
Mistobox delivers freshly roasted coffee from the best coffee roasters in the country. Other companies send random coffee to their recipients in the hopes of helping them discover new roasts. Crema, on the other hand, offers a highly personalized subscription. They take note of the preferences of their subscribers and use it to pick a single bag of coffee to be sent to subscribers. Instead of sending you a variety of coffee samples, you'll be receiving a 12 oz. bag of coffee based on your personal taste.
Mistobox offers a wide range of coffee selections, including decaf, espresso, traditional light to dark roasts. When you sign up for a subscription, you'll receive a mystery box that contains a variety of samples to accurately gauge your coffee preference. Subscribers shall also set their preference for their coffee type, roast level, price point, and shipment frequency.
Blue Bottle Coffee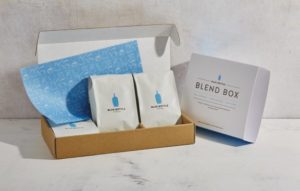 Cost: $7-14 a month
If you want to try new and exciting coffee, but you're hesitant to pay for monthly subscription boxes for fear that you may be wasting money on something you may not enjoy, turn to Blue Bottle Coffee. The company offers to send you your first box absolutely free. You just need to visit their website to sign up and check out the list of their famous blends or espressos. For this box, you only need to cover the shipping fee. There is also no commitment. You have the option to choose your own plan
Blue Bottle Coffee assures their clients that the coffee they send you is super fresh. In fact, they roast your coffee to order and then ship them out within 48 hours.