*This post may contain affiliate links. As an Amazon Associate we earn from qualifying purchases.
There are lots of espresso machines out there. The majority of which are equipped with either one or two boilers as part of their water-heating system. The boiler heats the water to the temperature that is needed for making espresso and for steaming milk. If you are new to the world of espresso machines, you may want to focus on single boiler espresso machines. These machines are the perfect introduction to espresso.
As the name suggests, single boiler espresso machines are only equipped with one boiler. That means the same boiler and heating element will be used for both coffee and steam modes. Since the temperature required for making coffee and steaming milk is different, there will be a 30-second to a minute waiting time between espresso extraction and steam production. But if you are a straight espresso drinker who likes the occasional cappuccino on the weekend, this would be a great option for you.
Single boiler espresso machines are a great choice for home use. They are more affordable than dual boiler machines and are perfect for the novice who wants to make coffee shop-quality beverages at home. They are also suitable for coffee connoisseurs who make a cup or two of coffee at a time.
If you are looking for a machine that will allow you to enjoy great tasting coffee on a daily basis without having to spend a huge sum of money or taking up too much counter space, a single boiler espresso machine is probably what you need. Here, we have a short list of the best machines that will get the job done.
Here are our top picks for the best single boiler espresso machines on the market.
Gaggia Classic Semi-Automatic Espresso Maker
[amazon box="B0001KOA4Q"]
Gaggia has been supplying us with reliable, state-of-the-art coffee machines for more than half a century. In fact, they were the ones who invented the espresso machines. Being a leading brand in the espresso machine marketplace, there is no doubt that the Gaggia Classic makes incredible coffee.
The first thing you'll notice about the Gaggia Classic is its looks. This sleek machine is covered in fine stainless steel, along with high-quality switches that are made to last. It may be small, but it is packed with great features; thus, making it one of the best of its kind.
The machine is designed with users in mind. It has a user-friendly interface that is designed to serve you easily, quickly and with no fuss. The Gaggia Classic is a single boiler espresso machine, but it comes equipped with a dual heating element. This allows you to make two espressos in as little as 65 seconds. Double the heating element means double the speed, right?
If you're looking to buy your first espresso machine, this will be the perfect option for you. There is no better machine to introduce you to home espresso than the Gaggia Classic. Most importantly, it produces some of the finest espressos you can get at this price.
Crossland Coffee CC1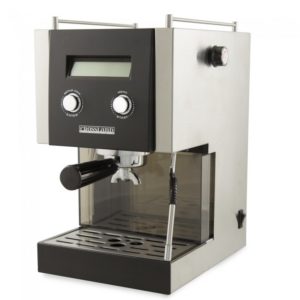 Image Source: www.seattlecoffeegear.com
Price: $700
The CC1 is a standout among single boiler espresso machines. For a single boiler machine, the CC1 packs in fantastic features. It comes with a multifunction keypad for programming, digital display that shows brewing temperature, and electronic temperature with PID.
We may not be able to brew coffee and steam milk at the same time, but the dedicated thermoblock makes it possible to steam milk and then pull shots without having to wait for the water to cool down. This is because the brew boiler is always set to brew temperature. Water is then pumped to the steam block to flash to steam. Rather than going the single boiler use route, the CC1 breaks from the norm by utilizing a unique steaming system.
Coffee lovers who are looking to hone their skills will love this machine. The CC1 offers easily adjustable settings, allowing you to set your ideal brew temperature, customize the pre-infusion, brew, and wait time. With different customization options, you can make coffee just the way you want it.
Rancilio Silvia M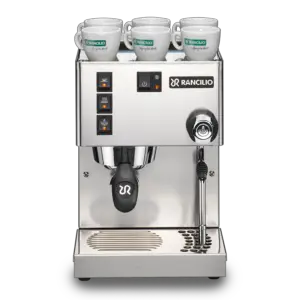 Image Source: www.espressotec.com
Price: $959
The Silvia M is the latest version of Rancilio's Silvia. With more than 10 years of superior performance, the Silvia is known for being the premier entry-level machine for home espresso enthusiasts.
Just like its predecessor, the Silvia M is rock solid. The exterior casing, drip tray, and drip pan are all made of high-quality stainless steel. Whereas, the frame that supports the unit is made of heavy iron.
The main power switch was upgraded in the latest model. It now features two separate lights to indicate the status of the heating element as well as the machine. This way, it will be easier for you to determine when your machine is ready to brew. The Silvia M comes with a brass boiler with a brass group head and portafilter. Its lead-free brass boiler helps reduce energy consumption by as much as 80%. It is also equipped with a commercial style steam wand that makes the steaming and frothing process easier. It even allows for larger milk pitchers.
Overall, the Silvia M is a solid machine with equally reliable accessories. This machine offers impressive performance that is normally seen on much more expensive models. With a little bit of practice, you'll be able to pull beautiful, high-quality espresso shots with ease.
Capresso EC Pro Espresso and Cappuccino Machine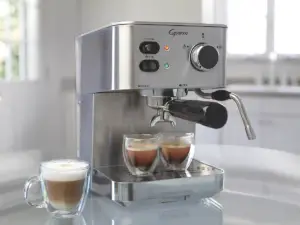 Image Source: www.capresso.com
Price: $249
While small in stature, the EC Pro is equipped with everything you need to brew a satisfying shot of espresso at home. In fact, it has a comparable feature with the EC100, but with a sleeker, more modern look.
The EC Pro is equipped with two portafilters. The bottomless espresso filter lets users brew barista style. It is for coffee connoisseurs who want to work on their technique to make cafe-quality espresso and cappuccino at home. The double spout portafilter, on the other hand, is for beginners. The machine also features an advanced pump boiler system that keeps water at an optimal temperature and a powerful frother that creates rich and foamy milk-based drinks.
Having a small kitchen shouldn't stop you from creating the coffee you love. If you love the idea of making espresso, latte or cappuccino at home, but you're short on counter space, look no further than the Capresso EC Pro. With its affordable price and user-friendly interface, this is one of our most recommended single boiler espresso machines for entry-level baristas.