*This post may contain affiliate links. As an Amazon Associate we earn from qualifying purchases.
The idea of receiving a surprise in the mail is exciting. It's the thrill of getting a surprise package each month that encourage people to jump on the subscription bandwagon. If you are a coffee lover, nothing will make you happier than receiving monthly coffee subscription boxes.
Coffee subscription boxes are not intended to replace your coffee supply. Instead, they are a great way to supplement your supply. Plus, it's a fantastic way to branch out and try new roasts and beans.
These monthly coffee subscription boxes will help you expand your coffee palate. Plus, they are sure to bright delight to your morning cup of coffee.
Mistobox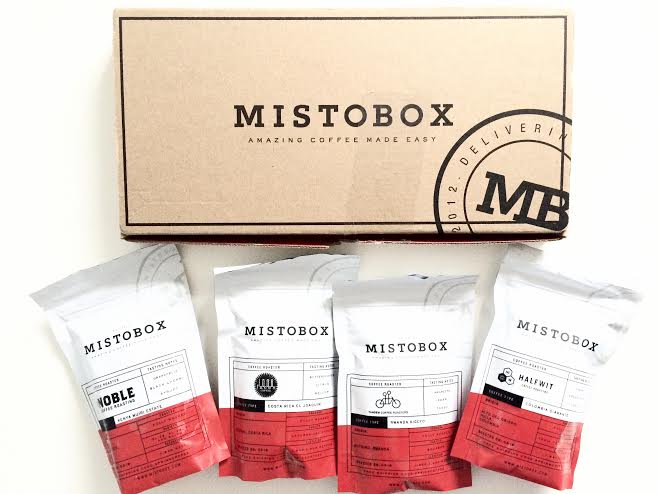 Image Source: https://simplybeyoutified.com 
Price: Basic – $12 per month + shipping
Deluxe – $15 per month + shipping
Mistobox is one of the biggest names in coffee beans subscription boxes, and for good reasons. Do you want to know their secret? They offer top-notch coffee.
Their artisan roasters do everything by hand. Plus, they specialize in things like single-origin, 100% Arabica beans. If you need a bit of variety, Mistobox got you covered. They have over 500 different coffees to choose from, multiple brewing, and speedy delivery. Another great thing about Mistobox is that the coffee beans are roasted right after you place your order. You can be assured of its freshness. After all, you deserve the best possible cup to start off your morning.
Java Presse Coffee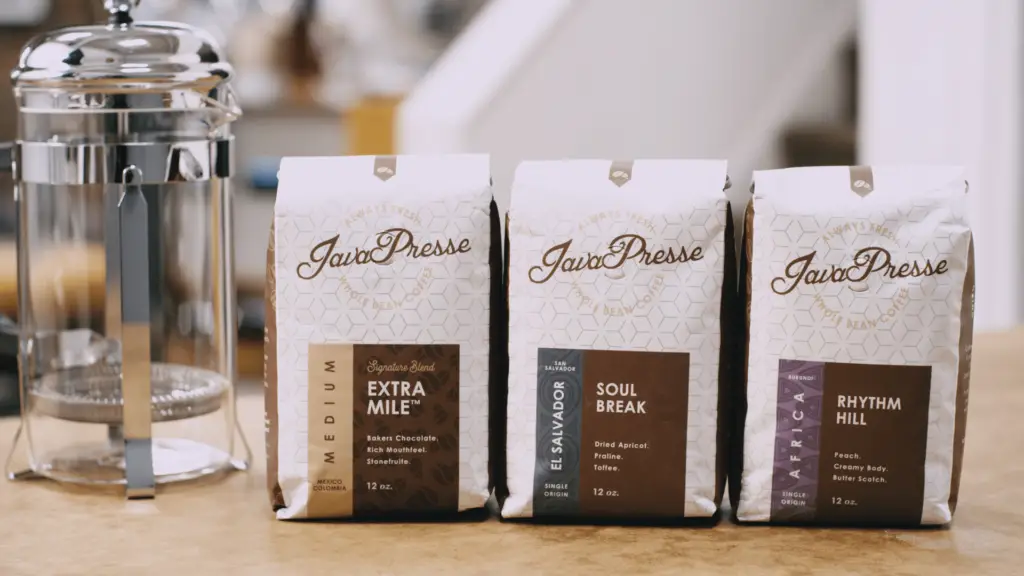 Image Source: https://hellosubscription.com 
Pricing: $20 per bag, plus free shipping
If you want to get the freshest, organically grown coffee, then this is the best option for you. When you sign up for a subscription, you'll get a box of monthly curated coffee from around the world.
Java Presse is committed to supporting coffee from around the world. Every time they send you a package, you get a different blend. Sometimes it's from Asia, Africa or South America. If you're lucky, it could be a unique blend you won't be able to find elsewhere. Plus, you know that your coffee habit is helping someone live a better life.
The coffee beans are guaranteed to be fresh. Your order will be sent to you within 2 hours of roasting.
Blue Bottle Coffee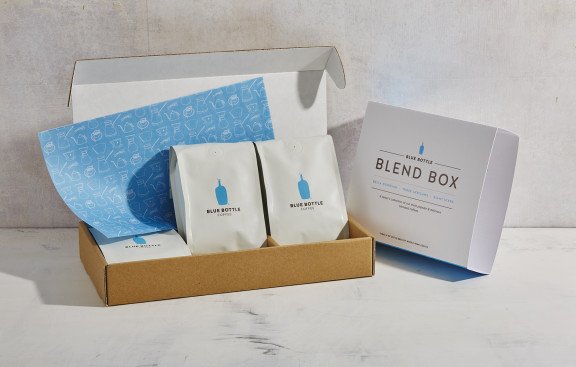 Image Source: https://dealmeisters.com 
Pricing: Plan starts at $15
Blue Bottle Coffee provides subscribers with their expert-roasted coffee, from espresso to famous blends. The whole bean coffees range in flavor, from fruiter varieties to rich, chocolatey tones.
This Oakland-based coffee company ships their beans within 48 hours of roasting, which is a unique industry trait. They arrive in vacuum-sealed bags, so you can be sure that your coffee beans come fresh, full of flavor, and ready to grind. The best part is, you can get your first box for free. You just have to cover shipping.
Atlas Coffee Club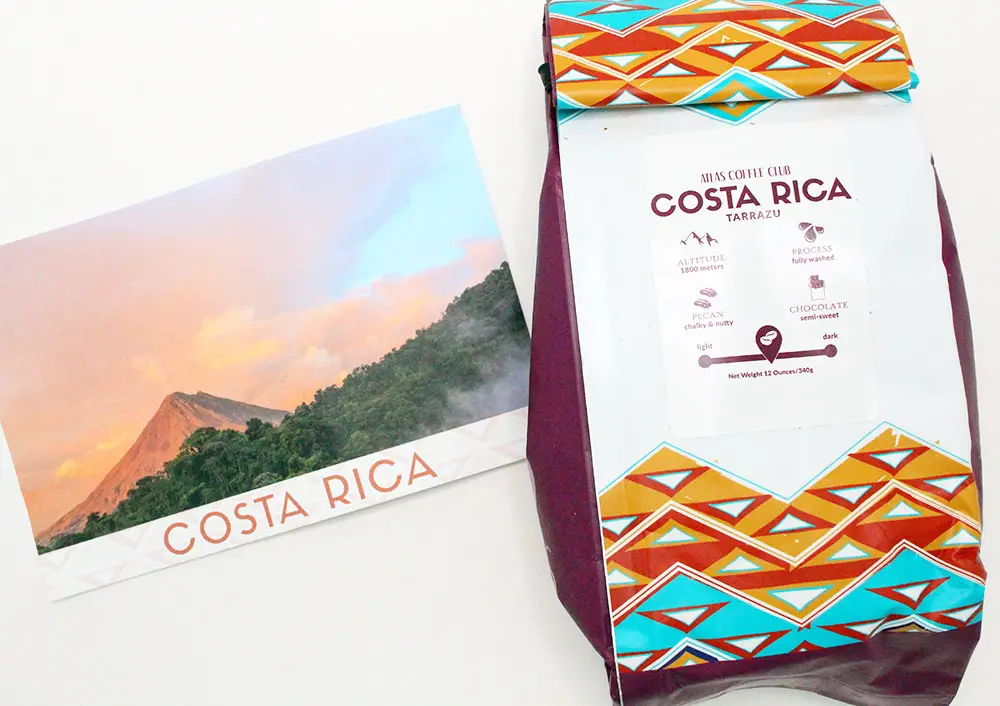 Image Source: https://www.subaholic.com 
Pricing: Starts at $9 per shipment
Atlas Coffee Club gives a world tour through your coffee cup. Every month, they'll send you something new from a far corner of the world.
Each subscription box includes coffee bags with beautiful, custom-made designs that reflect the culture of the country of origin plus a postcard from the country as well. They also let you choose your preferred coffee roast, amount of coffee, and delivery schedule that best fits your need and budget.
Atlas Coffee Club isn't the only coffee subscription box that features a collection of globally curated coffee. But between its flavor guides, postcards, and digitally-curated collection, it is worth considering.
Driftaway Coffee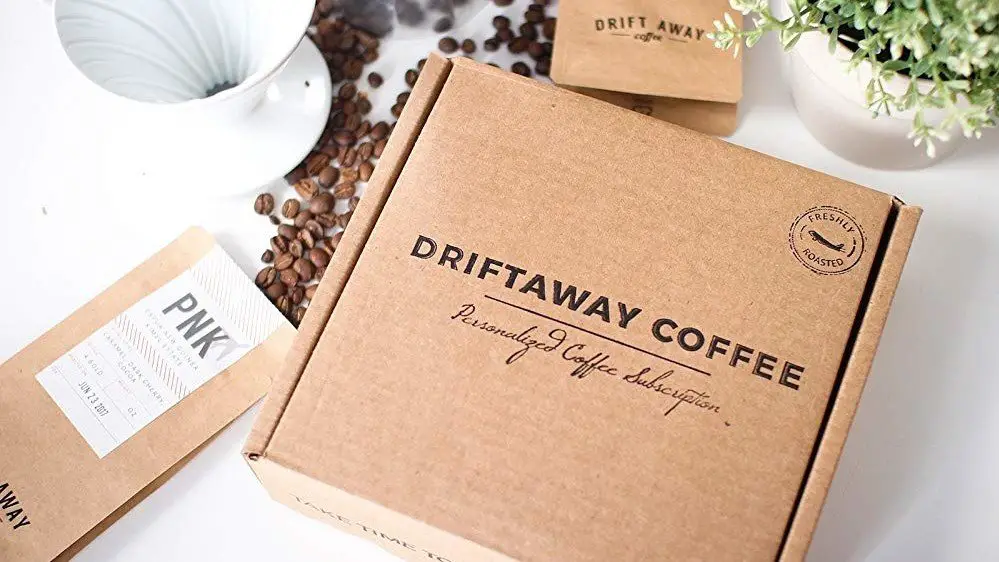 Image Source: https://coffeeorbust.com 
Pricing: Plans start at $12 per month
Driftaway Coffee subscription box is ideal for coffee enthusiasts who want freshness with a world of variety and expertise.
The problem with many coffee subscription boxes is that they don't know what type of coffee their customers would enjoy. Driftaway Coffee eliminates the guesswork by encouraging consumers to rate and review the coffee they send you. From there, they then curate your shipments based on your feedback to a sample box.
Driftaway Coffee transforms your mornings and teleports you across the world. They offer single-origin coffee sourced directly from farmers and roasted within 6 hours before delivery. You wake up with sweet, exotic flavor-bursting beans that are guaranteed to be fresh.
Coffee Crate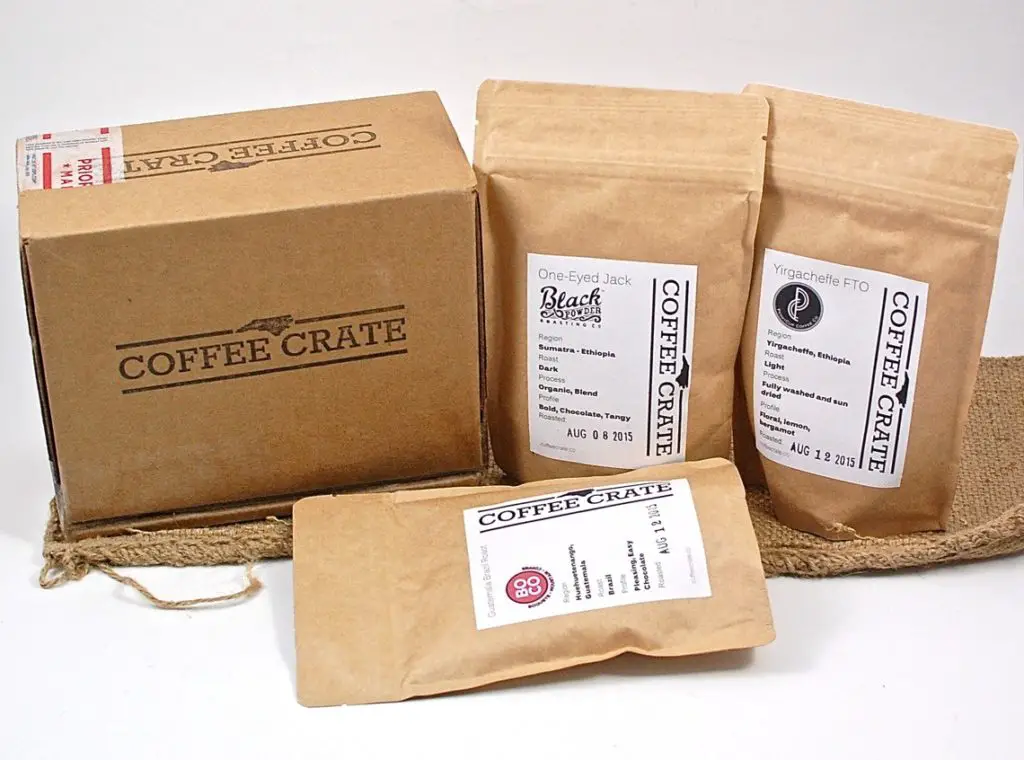 Image Source: https://2littlerosebuds.com/ 
Pricing: $29 a month
Coffee Crate offers a personal touch from the region surrounding Asheville, NC. This group of coffee-loving connoisseurs aims to share with the world what the finest local artisans have to offer.
Each month, Coffee Crate will send you three 4oz bags of whole bean North-Carolina roasted coffee, along with a detailed description of each roast. Most of the time, the boxes include local surprises and goodies to savor and enjoy.
Coffee Crate is one of those coffee subscription boxes that provide a regional, but a very different experience from competitors.
Angel's Cup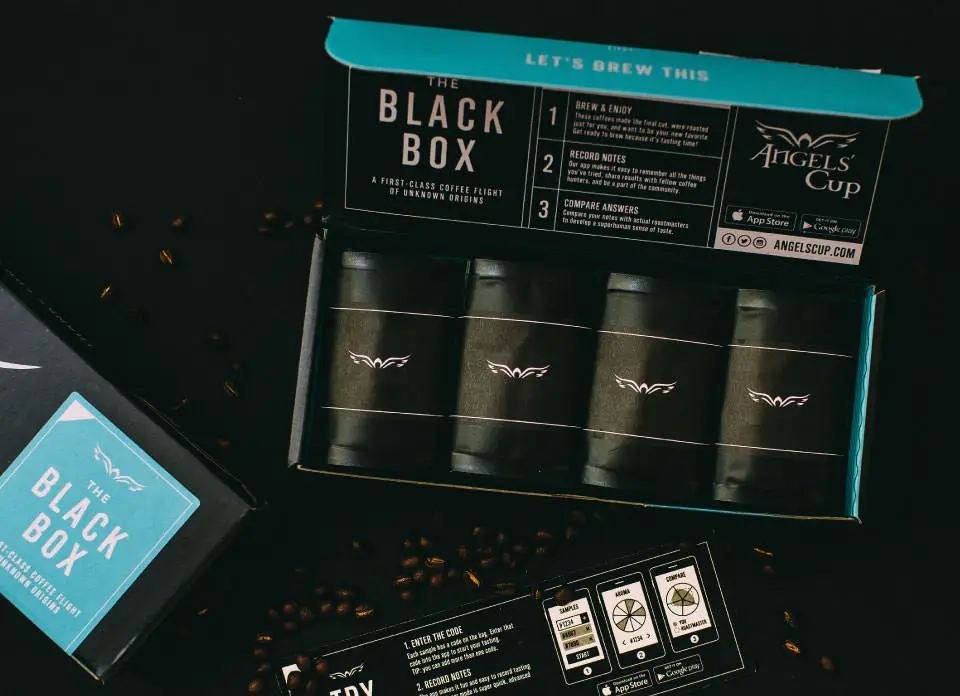 Image Source: https://angelscup.com 
Pricing: Starts at $11 per delivery
Angel's Cup is an excellent subscription service for those who want to hone their coffee palate and want to experience a wide range of flavor profiles. With over 200 coffees to try, Angel's Cup aims to expose subscribers to the tones, tints, hues, and shades of coffee.
Non-descript bag lets you test out the coffee without bias. It is recommended for adventurous coffee drinkers who love the element of surprise. They also have an app, which you can use to scale your coffee knowledge and record tasting notes.
Tips for choosing the best coffee subscription boxes
With so many coffee subscription boxes out there, it can be difficult to decide which one to get. As a coffee enthusiast, you already know that freshly ground coffee is the best. That said, you want to make sure that each delivery from your coffee subscription is fresh and full of flavor. Also, consider how much coffee you need per week. Look for a coffee subscription that will get you as much as you need. The frequency of delivery is another thing you need to take into account. There is no point in getting a bi-weekly delivery if it takes you a month to finish a bag of coffee.