*This post may contain affiliate links. As an Amazon Associate we earn from qualifying purchases.
If you're a coffee lover, you probably make a pot of coffee every morning before going to work. Living a fast-paced life, people are always in a hurry to get things done and go places. As such, most people are looking for a faster and more convenient way to enjoy their morning coffee. This is what sets Keurig coffee makers apart from traditional coffee makers. The rapid brewing of these machines is often the main reason why people buy them.
Out of the hundreds of coffee makers available out there, Keurig remains one of the most popular options for home and office use. In fact, many coffee lovers have already replaced their traditional coffee maker with the Keurig. These machines are designed to brew not only coffee, but also hot chocolate, tea, and other beverages quickly. You have a hot cup of coffee ready to go in just a few seconds.
If you are planning to buy a Keurig coffee maker, we highly recommend that you read this blog post first. These coffee makers come in a wide variety of models, ranging from mini Keurig to Keurig Vue. Each machine also comes with different options and water reservoir sizes.
To help make the buying process easier, we listed some of the best Keurig coffee machines in the market. Check out the list below to determine which of these machines is the right one for you.
Keurig B70 Platinum Brewing System
The Keurig B70 Platinum Brewing System is a premium quality coffee maker that is ideal for high end users. It's a great machine to have if you want to have coffee in style. It has a futuristic look that is sure to capture the attention of anyone who sees it. But it didn't get into our top list just because of its looks. This Keurig coffee maker is really amazing.
The Keurig B70 is not only easy to use, it also comes with excellent features. Out of the coffee makers on the list, this has the biggest water reservoir – 60 oz capacity. It also has an adjustable temperature control, an auto-off feature, and a touch control panel. It also allows you to choose from 5 different cup sizes – 4 oz, 6 oz, 8 oz, 10 oz, and 12 oz.
Keurig K55 Single Serve Programmable K-Cup Pod Coffee Maker
If you are on a tight budget and you're looking for a coffee machine that has all the basic features, you may want to consider this model. It is a basic K-cup brewer with a pretty good design and will fit almost any kitchen.
This Keurig coffee maker is ideal for home use. It is one of the cheapest models with a water reservoir. The reservoir holds 48 ounces of water, which is enough to make 5 standard cups. That means you don't have to add water for every cup of coffee.
Unlike the Keurig 2.0 that only accepts Keurig-made K cups, you can use any type of K-cups whether they're made by Keurig or not. This gives owners the luxury to choose from the many K-cup flavors available. It also accepts My K-Cup and third party reusable coffee filters; thus, allowing you to save money in the long run.
Keurig K145 OfficePRO Brewing System
If you are a family of coffee drinkers and you're looking for a machine that can brew large carafes of coffee quickly and efficiently, then this one is for you. It is designed with heavy gauge materials to serve high volume.
This Keurig coffee maker is not just fast, it is also easy to use. That means any one in your family or office can easily make their own beverage when they want it. Plus, you have the option to choose from 3 different cup sizes – 6 oz, 8 oz, and 10 oz)With this machine, you can brew coffee or any type of beverage you want with just a push of a button. Your drink will be ready in less than a minute.
Keurig Rivo Capuccino and Latte System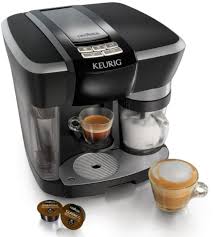 If you usually drop by the local coffee shop to get a milk-based espresso beverage, we highly recommend that you invest on the The Keurig Rivo Capuccino and Latte System. This machine is equipped with a frother; thus, allowing you to create cold froth, latte, and cappuccino. For added convenience, it can also accommodate cappuccino and milk side by side. If you're used to strong coffee, then this isn't the one for you.
Its price point and ease of use are its biggest selling points. Most espresso machines are usually expensive, complicated and requires too much maintenance. The Keurig Rivo, on the other hand, is very affordable and is relatively easy to use. For only 100 bucks, you get to play barista in your own home.
The brewing process will be done in less than a minute. You can enjoy a delicious cup of cappuccino even if you're short on time. Coffee quality is also excellent. With the capacity to enjoy coffee shop-quality beverages at the comfort of your home, you can bid farewell to your favorite cafe.
Keurig K15 Single-Serve Coffee Maker
Coffee makers are a great machine. It allows you to enjoy the perfect cup of joe anytime you want. The only problem is that they tend to occupy too much space. If you are in search of a compact Keurig coffee maker, we encourage you to get the Keurig K15.
With its compact size, the Keurig K15 is perfect for small spaces. In fact, it's only about the size of a blender. Despite its size, it is actually a powerful machine that you can rely on whenever you're in a rush. It comes with a one-touch feature that can brew a cup of coffee in just 2 minutes. It also offers a removable drip tray to accommodate different mug sizes. If you are someone who travels a lot and you don't want to spend a fortune on a coffee maker, this is the right machine for you.
Coffee variety is another great feature of the K15. You can use K-cups from other famous coffee brands to create perfect cups of coffee.