*This post may contain affiliate links. As an Amazon Associate we earn from qualifying purchases.
It seems just like yesterday when we sent our kids back to school. Many of you were probably busy shopping for school supplies and preparing some snacks for your little ones. Now, you're already decorating your home for the holidays and preparing a meal plan for this joyous occasion. Everyone is looking forward to the sumptuous meals during the holidays. But don't you think it's a great idea to serve some specialty coffee drinks after dinner?
There is no denying that the holidays are one of the most exciting times of the year, but it can also be one of the most stressful. This is especially true if you're the one hosting the social gathering. Preparing for the holiday doesn't have to be stressful. If you find yourself stressed and exhausted, treat yourself to specialty coffee drinks.
According to studies, drinking coffee can help reduce physical and emotional stress. These amazing coffee drinks will help alleviate the stress that builds up across the upcoming celebration. Plus, they'll give you the energy boost you need to accomplish everything on your to-do list.
If your guests are a bunch of coffee lovers, go ahead and share these drinks with them. Serve these specialty coffee drinks to your family and friends, and we can guarantee that they'll blow them away.
Here's a roundup of some specialty coffee drinks you can make at home. Once you have mastered these recipes, you'll no longer have to visit the local coffee shop. You can enjoy these gourmet drinks at the comfort of your home; thus, allowing you to save money in the long run.
Salted Caramel Mocha Latte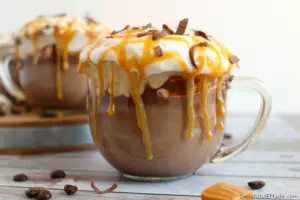 Image Source: www.delightfulemade.com
Coffee, caramel, salt, and chocolate. All these ingredients combined together makes a rich, delicious, and comforting drink. In my opinion, it is one of the most amazing beverages Starbucks has to offer. This is a great seasonal beverage that warms our hearts with its cozy goodness. But once fall arrives, everybody's pumpkin spice latte addiction starts to spiral; thus, leaving poor salted caramel mocha latte overlooked.
Salted caramel mocha latte is one of the most underrated drinks on the Starbucks menu. It's like a Twix bar, only in beverage form. Amazing! Today, we're giving this drink the attention it deserves. Try to replicate this recipe at home and you'll understand where we're coming from.
Hazelnut Macchiato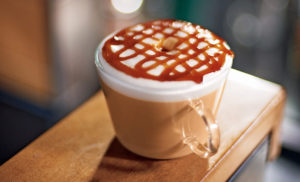 Image Source: www.starbuckscoffee.wikia.com
Caramel macchiato is one of the oldest and one of the most ordered drinks on the Starbucks menu. Today, however, we're focusing the spotlight on its sibling – the Hazelnut Macchiato.
This coffee beverage features espresso, steamed milk, and vanilla syrup. Plus, it is topped with foamed milk and hazelnut sauce that is carefully drizzled on top of the drink. It has just the right sweetness to round out the bitterness of the espresso. If you love the gooey, caramel drizzle on top of the Caramel Macchiato, we bet you'll drool over this one as well.
The good news is that, you don't have to run to nearest Starbucks to be able to enjoy the Hazelnut Macchiato. In fact, you can easily make it at home. Try to perfect this recipe and serve it to your guests this holiday. We bet everyone is going to love this. Get the recipe here.
Chocolate Espresso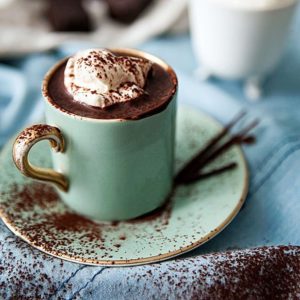 Image Source: www.food.list.co.uk
The combination of chocolate and coffee is a chocolate lover's dream come true. These two have incredibly complex flavors, but when paired together, they provide us with delicious flavor combinations.
Coffee does magical things to chocolate, and this drink is no exception. Similar to a couple who has been together for years, the pairing works so well together. The smooth, rich roast marries the bold, rich flavor of chocolate.
If you are looking for a romantic coffee and chocolate experience, we suggest that you give this recipe a try.
Dirty Chai Latte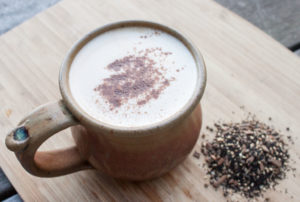 Image Source: www.thisoriginalorganiclife.com
Dirty chai is an espresso-based drink that is made with a shot of espresso, steamed milk, and chai concentrate. It's basically chai latte with a shot of espresso added to it.
What's great about the dirty chai latte is that you can make it hot or cold. That means you can enjoy it all year round. Serve it hot this winter and turn it into an iced dirty chai latte when spring rolls around. If one shot of espresso isn't enough, then go ahead and make it a double. That's a double dirty chai latte right there.
When you're yearning for one, but you're not in the mood to visit the nearest coffee shop or you don't want to shell out some cash, then go ahead and make some at home. Try this recipe and try to make this amazing drink at the comfort of your home. Don't forget to make some for your family as well. After all, a great drink is meant to be shared.
Peppermint Mocha Latte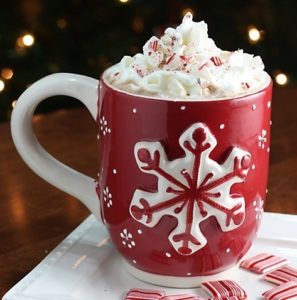 Image Source: www.emme-magazine.com
Peppermint and holiday celebrations go hand-in-hand. Nothing gets us in the holiday spirit quite like peppermint and chocolate. This drink is stuffed to the brim with all the stunning flavors of coffee, chocolate, vanilla, and mint. It is the perfect beverage for ending a festive evening in front of the fire.
This specialty coffee drink is super easy to make. Plus, this is way better and much less expensive than running to Starbucks for a cup of Peppermint Latte. Try this recipe for yourself and feel free to share it with your loved ones this holiday season.
Eggnog Latte
Image Source:www.thejennyevolution.com
Nothing sets a festive mood better than a glass of eggnog. And guess what? Starbucks has it on their holiday menu. This is one of those specialty coffee drinks that are off the charts caloric. In fact, one glass of eggnog latte contains a whopping 380 calories. It also contains 38g of sugar and 18g of fat. That's not surprising considering that this festive beverage is made with strong espresso, nutmeg, brown sugar, milk, and steamed eggnog.
Despite being a calorie-heavy drink, a lot of people love it. And since it is available for a limited time only, most people wouldn't want to miss it. If you are one of those people who love the eggnog latte, then you're in luck. We'll be sharing with you this amazing recipe, and we encourage you to try it at home. What's great about this recipe is that it doesn't require an espresso machine. Intrigued? Get the recipe here.