*This post may contain affiliate links. As an Amazon Associate we earn from qualifying purchases.
For most people, coffee is a part of every morning routine. Some people can't get through the day without the perfect cup of coffee. Unfortunately, finding a good cup of coffee can be a challenge when you're travelling. This is especially true for coffee enthusiasts who have mastered the art of brewing their own coffee. Luckily, there are several portable coffee makers in the market for nomadic travelers like you.
If you're in the market for the best travel coffee maker, then this blog is for you. Listed below are 5 portable coffee makers that will allow you to brew coffee on the go.
AeroPress Portable Coffee Makers
If you are in search of a light and compact coffee maker but don't want to sacrifice taste, then we recommend that you get an AeroPress Coffee Maker. It is easy to use and clean, durable, compact, and makes great tasting coffee. In our opinion, the AeroPress is one of the best portable coffee makers in the market.
The AeroPress is basically a plastic tube with a rubber plunger. It is made from rugged and can stand up well to the rigors of the road. Whether you're on the road or at home, this coffee maker is sure to deliver a perfectly crafted cup of coffee. It does require a bit of a learning curve, but you are sure to get the results you want with a little bit of practice. With the AeroPress, you will never have to settle for instant coffee ever again.
Black + Decker Brew 'n Go Personal Coffee Maker
If you're looking for a compact, inexpensive coffee maker for your office, dorm or take with you when you travel, you may want to consider the Black + Decker's Personal Coffee Maker.
This coffee machine brews a generous 15 oz. serving of coffee, giving you that much-needed caffeine fix. The coffee brews directly into the mug, which is already included in the package. There is no need for a coffee pot at all. With one-touch operation, you can just grab the cup and go.
Bodum Travel Press
The Bodum Travel Press is a smart choice for travelers, mountain climbers or busy professionals who wants to brew a cup, yet often find themselves pressed for time. This innovative coffee maker takes portable coffee makers to the next level. In fact, it allows you to turn your favorite coffee bean into a full-flavored cup of coffee while you're on the move. It gives you the freedom to brew your own cup of coffee at home, at work, while on the bus or commuting on the train.
The Bodum Travel Press works best with coarse coffee grounds and loose tea. It can hold up to 350 ml of liquid, so you don't have to compromise on your daily caffeine does. The mug itself is made of double-wall construction stainless steel, so your coffee stays hot enough to enjoy even after a few hours. Life gets a lot better with this travel coffee press.
Handpresso Wild Hybrid Portable Coffee Maker
The Handpresso is light, compact, and solid. It is a great choice for frequent travelers. The coffee maker resembles a bike tire pump and generates 16 bars of pressure. It works best with freshly ground and roasted coffee.
This coffee maker does not require electricity, battery or gas cartridge. All you need to do is to pump the chamber a few times until the gauge points to the 16-bar mark. Add hot water and coffee ground, and then close the lid. To dispense, simply press down the button over the top left of the tube. You'll have great-tasting espresso with a fine and smooth crema.
With portable coffee makers such as this, you can take your espresso anywhere you go – be it to work, camping, and even across the country.
GSI Outdoors Collapsible JavaDrip Slim Drip Coffee Maker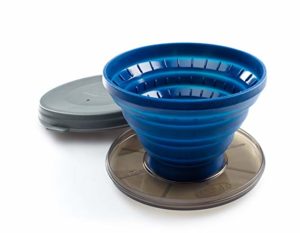 If you're a light packer, the idea of packing a coffee maker in your backpack may seem absurd. It may seem like too much of an extravagance for a backpacker. Weighing only 5 ounces, this collapsible coffee maker is a great option for air travelers, backpackers or campers with limited space. With this travel coffee maker, you can enjoy great-tasting coffee throughout your trip. It won't take too much space in your backpack either.
The GSI Outdoors Collapsible Coffee Maker allows you to make drip coffee anytime, anywhere you want, as long as there is hot water and filter. You can make 1 to 2 cups of coffee in a jiffy.
The coffee maker is made from high quality silicone that doesn't absorb or pass any taste into your drink. It has a broad base that can fit over wide-mouthed mugs or pots. It also comes with a lid that doubles as a trivet after brewing.
Despite its simplicity, the can churn out a reliable cup of coffee. But if you're looking for a strong, bold brew, this may not be the best choice for you.
Final thoughts
Brewing a great cup of coffee requires time, space, electricity, and a coffee machine. The problem is that most coffee makers are designed for home use. When you're out travelling, camping or hiking, it can be difficult to enjoy a good cup of coffee, unless you're willing to drop by the local coffee shop. The cost can add up overtime; hence, putting a dent on your budget.
If you are a frequent traveler, hiker or camper who just wants to enjoy a decent cup of coffee anytime, anywhere you want, we encourage you to get one of the portable coffee makers we have mentioned above. With a little ingenuity and preparation, you can brew a rich, delicious cup of coffee.