*This post may contain affiliate links. As an Amazon Associate we earn from qualifying purchases.
These days, coffee is more than just a morning ritual. It is a science; it is an art form brewed to perfection. Coffee shops and at-home brewers have increasingly turned to methods like the French press instead of drip coffee makers, seeking a perfectly balanced and flavored drink suited to their tastes. Different French presses cater to different consumer preferences, so it is important to know what features to look for before buying. Below, we review the Le Creuset French Press and compare it to similar French press models on the market today.
​.
What Is the Le Creuset Stoneware 27oz. French Press?
The Le Creuset French Press is a 27-oz functional French press made of stoneware and coated in enamel.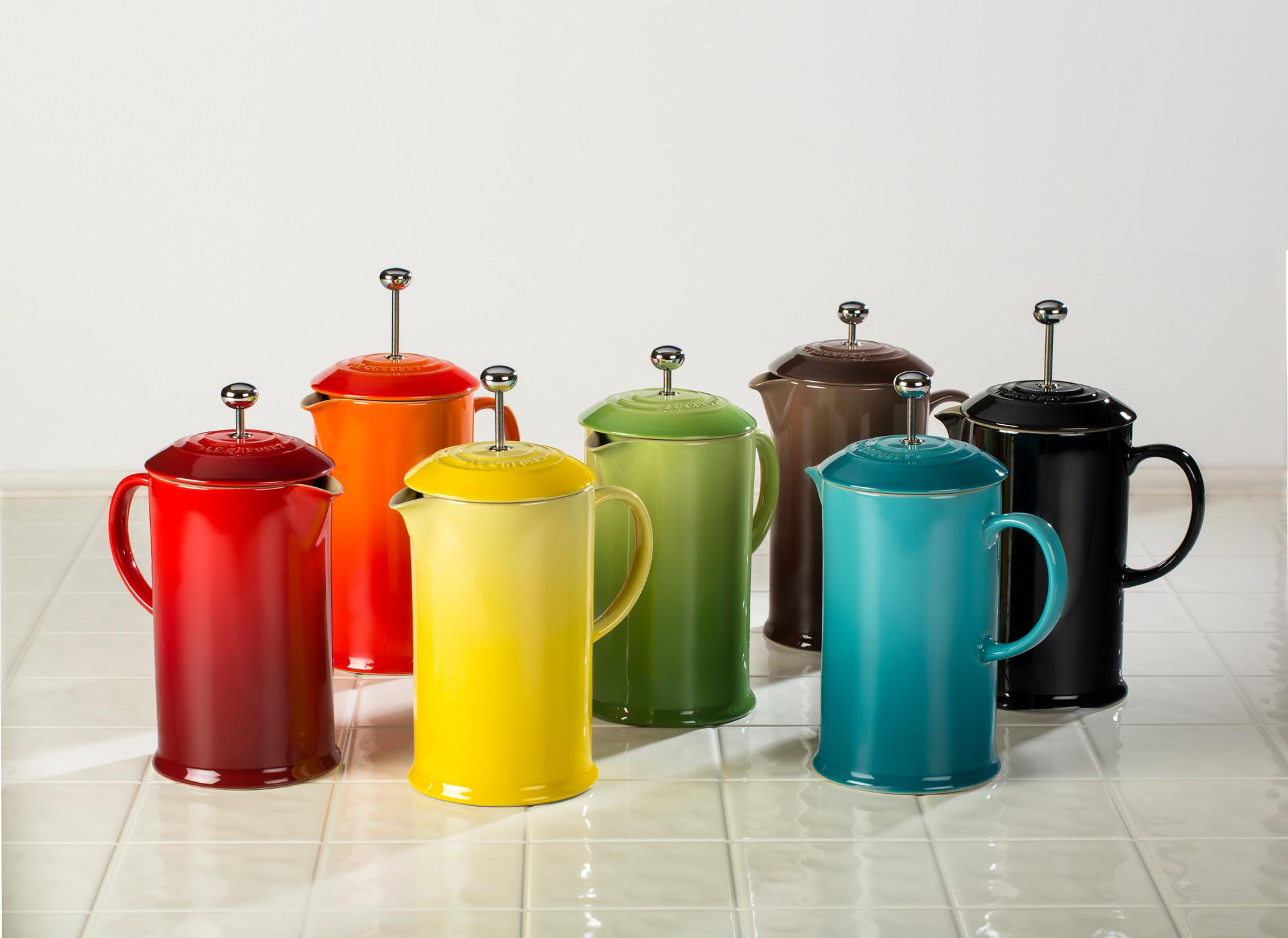 Product Specs
The Le Creuset French Press is distinguished by its attractive, colorful exterior and thin, rounded pouring handle. The exterior ceramic-like design stays true to the Le Creuset brand, while the inside pays respects to the traditional French press model. A stainless steel-tipped plunger tops off the lid's exterior, contrasting uniquely with the lid.
Pricing
The Le Creuset French Press may be purchased from major retailers like Amazon, Williams-Sonoma, or Bed Bath & Beyond for around $70. Though it is no steal for budget bargain hunters, the Le Creuset French Press maintains a reasonable place in the market. The price of this Le Creuset French Press falls slightly above most glass French presses, which may range from as low as $20 to as high as $70 or more. It is, however, significantly lower than many stainless steel French presses, which may sell for well over $100.
How the Le Creuset French Press Compares
We picked a few similar products available on the market to see how they compare.
Espro Coffee Press P7-32 oz Double Wall Vacuum Insulated Polished Stainless Steel Coffee Press
Frieling USA Double Wall Stainless Steel French Press Coffee Maker
It's American Press Coffee and Tea Maker
Le Creuset Stoneware 27oz. French Press
Price $70 $$
The creamy enamel interior makes cleanup one of the most positive attributes of the Le Creuset French Press. With a stainless steel plunger and a single-layer stoneware lid, the Le Creuset French Press is less susceptible to smudging than glass models and avoids the hassle of bulky, multi-layer mesh filter pods.
As far as manual French presses go in terms of heat retention, the Le Creuset French Press does an okay job. A strict coffee brewing aficionado may scoff at the rapid cooling of the pot, but with just enough volume to hold a little over two cups of coffee, the average joe drinker might well finish a pot and be on their way. Plus, the cooling of the pot will help slow down brewing to avoid an over-brewed, bitter taste.
Paramount to the success of the Le Creuset French Press is its beautiful design. Some brewers put their faith in the aesthetic of their appliances alone, and if that is you, then you need the Le Creuset French Press. Consumers have noted that it is an unobtrusive and even lovely addition to their kitchen countertop. And, if you're a Le Creuset junkie anyway, then you simply must add this matching kitchenware to your collection.
Aiding the ease of cleanup, the Le Creuset French Press is dishwasher safe. However, overall, it is a delicate piece that must be handled with great care to avoid cracks and chips. In general, consumers noted that they got far fewer uses out of this French press than what would be expected from an average French press. With its focus on looks over durability, the Le Creuset French Press might be best for serving coffee on small, special occasions.
Pros
Cons
angle-double-right
angle-double-right
angle-double-right