*This post may contain affiliate links. As an Amazon Associate we earn from qualifying purchases.
People are sucker for latte art. Recent study showed that people are willing to pay significantly more for coffee with a frothy finishing touch. In fact, consumers are likely to pay 11 to 13% more for art-toppped lattes. Unfortunately, you need to save money. That latte art isn't doing you any favor. Investing in latte machines may actually help you save money.
The latte is a coffee classic that is universally adored. For many, a cup of latte is a simple source of joy. The good news is that you don't need to give up your favorite beverage just to save money. You can still savor your lattes without putting a hole in your household budget. There are lots of domestic latte machines in the market. These coffee machines are not as expensive as you may think. In fact, some of them are under $200.
Whether you're a hardcore latte lover or you just want something quick, these coffee machines will be a great addition to your kitchen. Here are 5 entry-level latte machines for the home barista.
De'Longhi Pump Latte Machines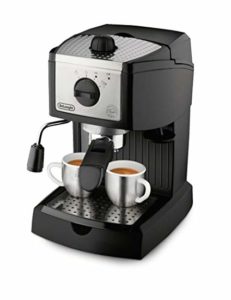 Image Source: https://www.amazon.com
Price: $92
De'Longhi has a long-standing reputation when it comes to affordability and durability. The Pump Latte Machine fits the criteria. Not only is it well-made, it is also reasonably priced.
The De'Longhi Pump Latte Machine is an all-around pleaser. It doesn't just stop at making espresso shots; it allows you to make lattes and cappuccinos as well. With this machine, you can use both ground coffee and pods. In addition to its versatility, ease of use is one of the main selling points of the De'Longhi Pump Latte Machine. It does most of the work for you. With just a push of a button, you can make barista-quality beverages, just like you enjoy at you enjoy at your favorite coffee house.
With this latte machine, you'll discover the barista in you. You'll discover how easy it is to make authentic espresso, latte, and cappuccino at home.
Mr. Coffee BVMC-EL1 Café Latte Maker
Image Source: https://www.amazon.com
Price: $100
This Café Latte Maker is an excellent choice for latte lovers who are looking for an affordable option. Mr. Coffee Café Latte Maker is a straight to the point coffee machine. No complicated touch screens, overly elaborated frothing or complicated functions. It features easy to use controls and automatic latte cycle. With this latte maker, you can make a delicious pot of latte with one simple touch. Plus, it automatically powers off once the drink is ready.
Clean up is also a breeze. All you need to do is to wipe down the exterior of the machine, throw out the excess coffee from the pitcher, rinse it and wipe it with a damp sponge. It's that easy.
Budding home baristas out there would be thrilled to know that the package comes with a recipe book that includes 20 different varieties of beverages – from a basic latte to a decadent gingerbread latte. With this latte machine, you will no longer have to line up in a coffee shop ever again. Now, you can make café-quality beverages in your own kitchen. s
Hamilton Beach 40792 Espresso & Cappuccino Maker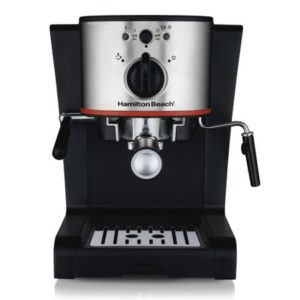 Image Source: https://www.walmart.com
Price: $100
If you are in search of budget latte machines that creates rich-tasting espresso, latte, and cappuccino, then this one is for you.
This coffee machine is equipped with a swiveling steam wand, removable water reservoir, and drip tray. It has a great frothing mechanism that makes as much warmed and frothy milk as you like. It will froth continually as long as it is in the on position. Plus, it has a powerful 15-bar pressure that provides excellent extraction and rich crema. The patented slide and lock filter holder make setup easy.
Take the next step in your pursuit of the perfect cup with the Hamilton Beach Espresso and Cappuccino Maker.
Ninja CF110 Coffee Bar Single-Serve System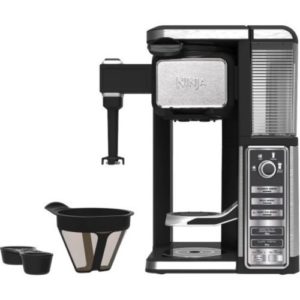 Image Source: https://www.blinq.com
Price: $90
The Ninja Coffee Bar is a pod-free single serve system with a built-in frother.  This advanced system lets you brew, froth, and create virtually any coffee you want to drink. No pods are necessary here. That means, you can use any brand of coffee you want. For the first time ever, Ninja Coffee Bar offers XL settings for both travel mugs cups.
Since the machine brews one cup at a time, you can easily create your own personalized cup. Whether you prefer latte, cappuccino, black or cold coffee, the Nina Coffee Bar delivers it all. With this coffee machine, you can make café quality beverages without ever leaving your home.
Keurig K-Café Single Serve Coffee Pod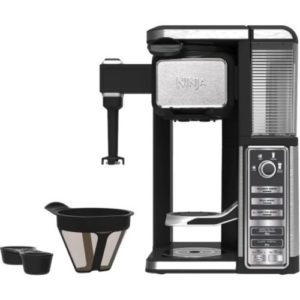 Image Source: https://www.slashgear.com
Price: $180
Keurig's coffee makers have been a staple in many kitchens. It is easy to use, convenient, and is fairly consistent.
The K-Café is one of the latest brewer innovations from Keurig. This new model has the ability to make lattes and cappuccinos. Plus, it promises a stronger cup than usual. Also, it has both a pod-coffee brewer and a milk frother. The frother can froth both cold and hot milk. It can also handle regular milk, almond milk, soy milk, and skim milk. You can use any K-cup pod to brew coffee or make frothy cappuccinos and creamy lattes.
The K-Café is refreshingly minimalist. Featuring nickel colored finish and metal details, this coffee maker will be a stunning addition to your kitchen.
Final thoughts
A $5 latte doesn't seem like a lot. But if you usually drop by the local coffee shop every day, the numbers can easily add up. But why would you spend money on coffee if you can make them at home?
Domestic latte machines are available in a wide range of prices. If you are strapped for cash, you may want to consider getting entry level latte machines for your home. Most of the coffee machines on our list are less than $200, making them a great option for budding baristas out there. Not only will it help you save money, it will also improve your coffee making experience.