*This post may contain affiliate links. As an Amazon Associate we earn from qualifying purchases.
As a coffee lover, many of you have probably thought of opening a coffee shop at some point. Whether you're just starting out or you're thinking of expanding your existing business, you need to find the best espresso machines for coffee shops.
A good quality commercial espresso machine is integral for the success of your business. You need something that will accommodate your daily endeavors. To help you make a more informed decision, we have rounded up some of the best espresso machines for you to take into consideration.
Here are the top 6 espresso machines for coffee shops.
La Pavoni BAR-T 2V-B Commercial Espresso Machine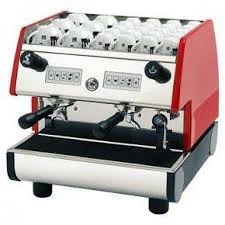 Image Source: https://www.amazon.com 
Price: $5,800
If you're looking for a reliable espresso machine for your coffee shop, you really have to give the Pavoni Bar 2 a hard look.
La Pavoni Bar 2 is large enough for most establishments and offers a good balance of features. Plus, it produces incredible shots of espresso.
This model has a boiler size of 14 liters and has the capacity to produce about 600 cups of espresso a day. The group head is where all the functionality of the process comes to a head. The portafilter is placed in the group and the espresso fills the cup. Direct connection to your water line eliminates the need to fill the water tank manually.
Overall, It's a great investment for coffee shop owners who want to provide consistently high quality coffee to their customers. Even if you do not make hundreds of cups of espressos now, know that this one will grow with you.
Nuova Simonelli Aurelia II Digital 4 Group Espresso Machine
Image Source: https://www.amazon.com/ 
Price: $19,503
The Aurelia II is a beautiful machine with a sleek, sophisticated design. Customers who see it will know that you are serious about producing the best espresso possible.
This machine was designed with baristas in mind. For high-volume shops, one of the things that can slow down the process is when baristas have to wait their turn. This model has 3 group heads that will enable your baristas to make as many cups of espressos as needed. With cool touch steam wands, the outside of the wand is completely cool to touch. Your workers will never scorch their fingers again. Ergonomic craftmanship makes pulling espressos easier and faster for them.
The Aurelia II is an awe-inspiring coffee machine that will make your baristas work at their best. It is one of the best espresso machines for coffee shops.
La Spaziale S1 Mini Vivaldi II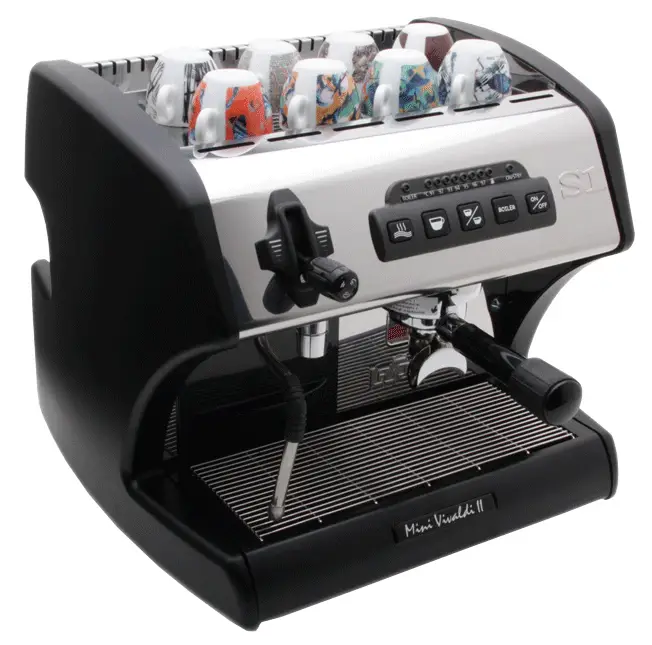 Image Source: https://www.chriscoffee.com 
Price: $1,875
Although mini is in the name, the Mini Vivaldi II has a big reputation to live up to, and it won't disappoint. It boasts several innovative and commercial-grade features that help making brewing espresso drinks a breeze. In fact, it packs all of the power and performance of the original model in a compact design. Keep in mind, though, that this espresso machine will only work for a small cafe.
The S1 Mini Vivaldi II features La Spaziale's patented coffee delivery system, vibration pump, dual boiler, and exclusive temperature regulator. Its temperature system keeps track of the changes in temperature and activates the system's heater once the temperature drops. This keeps both the brewing boilers and steaming boilers operating in the best possible manner. Programming dosing volume allows programming of the single and double cup control buttons to dispense whatever quantities of espresso you want.
Nuova Simonelli Appia II
Image Source: https://www.seattlecoffeegear.com
Price: $6,030
If you run a medium-capacity coffee shop, the Appia II might be worth the investment. With the capacity to brew between 30 and 100 drinks per hour, it can keep up with low to medium volume with no problem.
With its sleek chrome finish, the machine has a modern look. This luxurious espresso machine is NSF certified for commercial use and ready to jazz up any cafe. It is a durable, reliable commercial espresso machine with high performance and productivity.
Elektra ART.SX Microcasa Semiautomatica Espresso Machine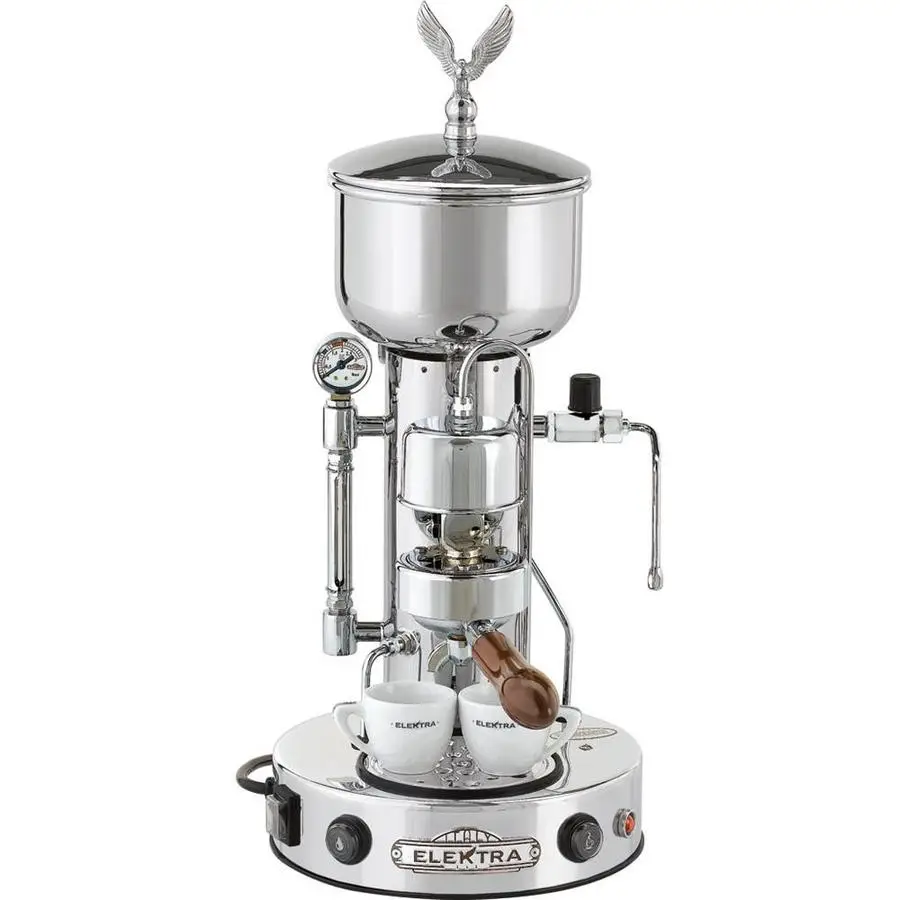 Image Source: https://idrinkcoffee.com 

Price: $2,100
If you are just as concerned with aesthetics as you are with espresso quality, this may be just what you're looking for. With chrome finish and a beautiful Elektra eagle as a crowning emblem on the dome of the machine, it is absolutely stunning.  
The design tends to make users think that it's difficult to operate, but it's not. This seemingly intricate machine only comes with 3 buttons – power, coffee brew, and boiler refill. You won't need to do much in order to start giving your customers what they want. Other features include water level sight glass with pressure gauge, boiler pressure valve relief, and twist-knob controlled steam valve.
The ART.SX may not outperform other espresso machines for coffee shops, but it will still work well for small businesses.
Bezzera Magica E61 Semi Automatic Espresso Machine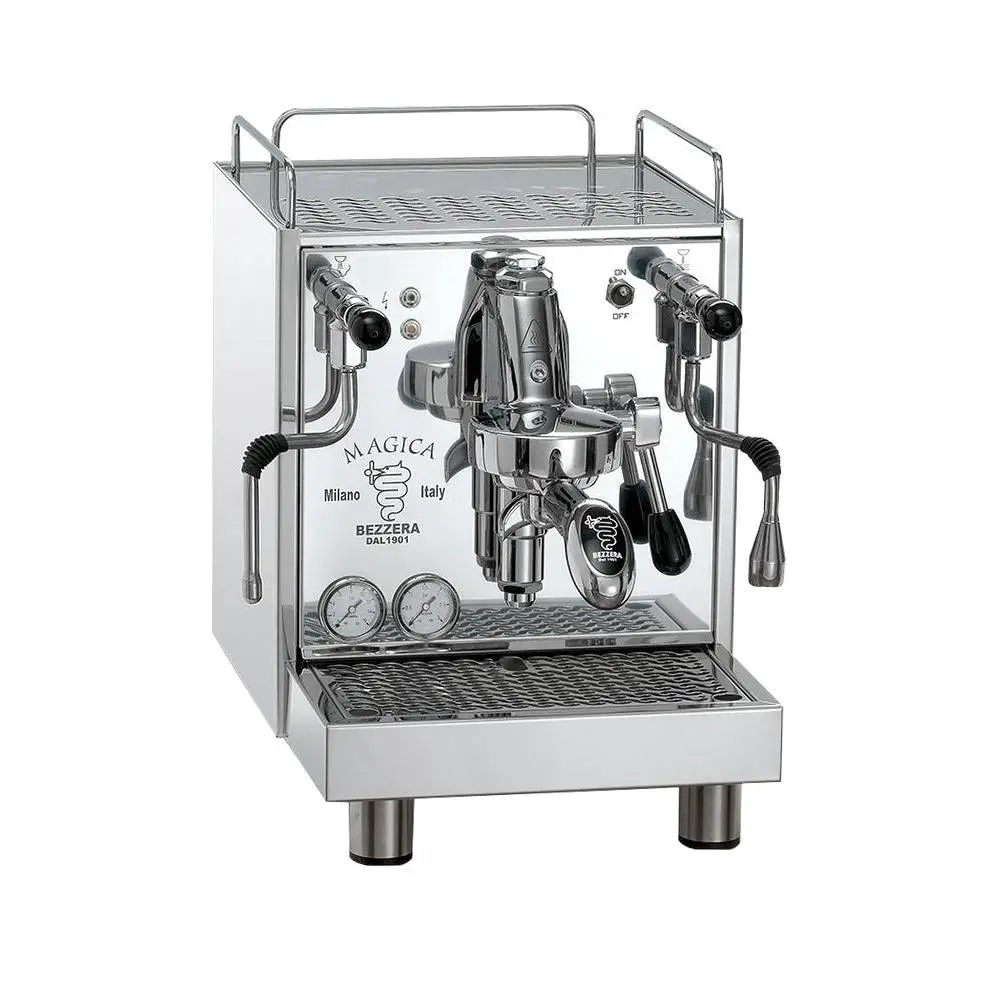 Image Source: http://www.finecoffeecompany.com 
Price: $1,949
The Bezzera Magica is an excellent option for smaller-scale coffee shops. It has some really impressive features, provides excellent coffee, and large water reservoir.
This model combines the best of both worlds – classic elements as well as modern features. It has a dual boilers that allow baristas to simultaneously brew and steam milk. E61 group head is efficient. Water flows through the group head and heats the space with conduction. It also features an extraction pressure gauge and joystick style hot water steam wands that can be turned on or off instantly.
It's a good quality machine made of quality materials. Plus, it's produced by a company that has been serving coffee lovers with superbly-designed espresso machines since the early 1900s.
Invest on the best espresso machines for coffee shops
People visit coffee shops because of convenience. Many of them are in a rush, and no longer have time to make their own coffee at home. So if you want your customers to keep coming back, you need to serve them good quality coffee and hand it to them as quickly as possible.
In order to thrive and succeed, you need to provide your customers with the best quality coffee possible, as well as fast and efficient service. With the best espresso machines for coffee shops,  you can pull the perfect espresso shot. They can also significantly improve your productivity; hence, keeping your customers happy and coming back for more.