*This post may contain affiliate links. As an Amazon Associate we earn from qualifying purchases.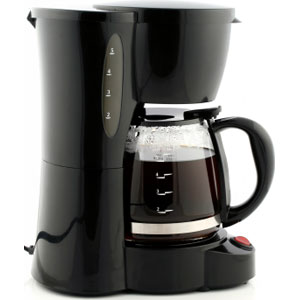 Looking for the best coffee makers and grinders on the market? Well, we have them right here. The best of the best with affordable prices. When looking for these products to put in your home, it's important that they're safe and work well with the features that they're given. Take a look at what is ranked as the best right here;
1.) Kenmore Elite 12-Cup Coffee Grinder, and Brewer (Stainless Steel) – $118.58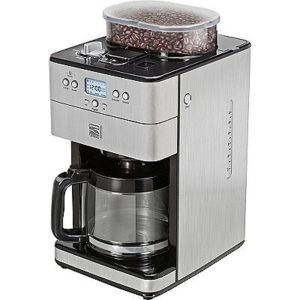 The Kenmore Elite, has just about everything that you need in one. This specific model is very convenient because you can make up to 12 cup instead of doing just a single brew like other coffee makers allow. Another feature with the Kenmore is the built in coffee grinder. This allows you to purchase whatever beans that you please and place them in the top container to be ground up for your brew. It's not messy at all and it's very simple to use. The feature that most customers are pleased with would be the stop and serve. You can pause the machine mid-brew and serve yourself a cup if you can't wait, and then resume it to finish off the batch. Buy It Here!
Majority of customers who have purchased this product and reviewed it, have had positive comments about it. They enjoy how simple it is and how it really does all the work for you after you add water to it. They also like how you can choose what strength the coffee grinder is set on and how strong the brew will be. This product is given a 4.2 out of 5 stars and is said to be priced well for the value.
2.) Capresso 464.05 Coffee Team GS 10-Cup Digital Coffee Maker- $169.75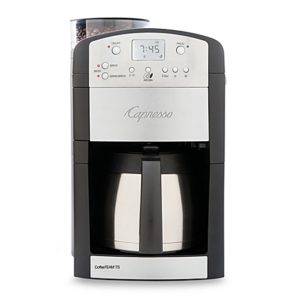 The Capresso coffee maker is one if it's own kind. It's completely digital with a variety of buttons and features that you may want to try out. This product has a built in grinder, along with functional button settings that allow you to choose the strength of the brew as well as how hard your coffee is ground up. It's considered cleaner than most coffee makers because it has a water filter built into it for when you dump water in for the brew. There is a safety feature that automatically will shut off the machine if it's inactive after two hours. Also, quite like the Kenmore Elite there is a pause function so you can stop it mid-brew and get yourself a cup of coffee a while. It's recommended that you look into this product right now as it is on sale! Check it out here; Capresso 464.05 CoffeeTeam GS 10-Cup Digital Coffeemaker with Conical Burr Grinder
Customers have collectively had positive reviews on this product. They believe that it is made very well for it's price and that the features are incredible and very convenient for them. Especially that it is digital and that you can serve up to ten cups at a time. Most customers would definitely recommend the Capresso Digital Coffee Maker, so make sure you check it out!
3.) KRUPS EA8250 Espresseria Fully Automatic Espresso Machine Coffee Maker with Built-in Conical Burr Grinder-$563.48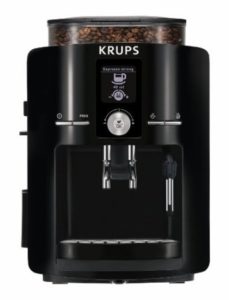 The KRUPS Espresso Machine is everything you could possibly want and imagine in a coffee machine. Everything is basically done for you so it won't take you a lot of time at the coffee maker in the morning. It has the built-in grinder for you so don't worry about having to grind up coffee ahead of time. This product is very easy to clean out and it comes with a thermoblock, and that ensures that your coffee will be hot from the start and maintain that temperature. Another talked about feature would be that you can prepare different drinks in the compartments, and then start them directly after you finish brewing one. Check out this video on this product!
Customers are overall very pleased with this product and the abundant amount of features that it offers. It's so unlike many other standard coffee makers. They like that their is a nozzle specifically for latte drinks, because you can't alway get that with regular coffee machines. It's easy to care for also, which was another convenience for customers who didn't want to take the time to clean out their whole machine. If you're interested in this product you can Buy It Here!