*This post may contain affiliate links. As an Amazon Associate we earn from qualifying purchases.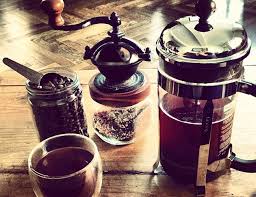 Image Source: http://gearpatrol.com
Coffee Gear? You might not even think about it, but coffee gear is just as important as your coffee equipment and the coffee itself! There are plenty of products on the market for coffee gear specifically. They're sometimes products that you have seen but never really saw what the use for them would be. Here you have a list of some of the best coffee gear you can get, where you can purchase them, and also their specific use.
1.) Primula Cold Brew Glass Carafe Iced Coffee Maker- $27.82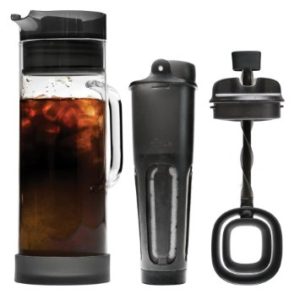 Image Source: http://www.amazon.com
This thermal glass carafe is a must have! It was specifically made for cold brew coffees, like iced coffee, and its job is to keep it cooled during and after you pour yourself some. It's an easy clean, with a mesh interior bottom so no need to worry about a mess. After brewing your cold coffee, you can store it in this carafe and leave it in you refrigerator for up to about two weeks, which in turn may save you a lot of time in the mornings when you'e in a hurry! So how do you use it? All you have to do is have coffee beans ground up, where you'll then put them in the filter. Next, you're going to add just one cup of water and wait for that to empty out before you add 2-3 more. It's important that you then leave it in the fridge overnight, because the next morning you are to untwist the bottom filter and the coffee grounds will have made their way down the tube and your coffee will be ready to be served! Customers who have reviewed this product collectively say that it's important for you to slowly pour your coffee with this carafe, because if you pour it too fast sometimes coffee grounds can get into your coffee and you don't want that happening! All in all, customers were so pleased with this product and how well it tasted. Interested in getting your own? Check it out here: Primula Cold Brew Glass Carafe Iced Coffee Maker, 1.6 Quarts
2.) Grand CDT Thermal Carafe Coffee Brewer- $399.00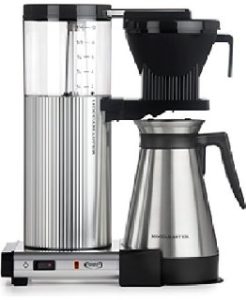 Image Source: http://www.amazon.com
The Grand CDT Thermal Carafe Coffee Brewer is a little more pricey than the previous Carafe System shown, but with everything that is included in this product, you're definitely getting what you pay for. This thermal carafe is also stainless steel, and this one is made for hot brews. Every piece of this product can be removed and put back together for when you need to clean it. Since it is a more expensive product, there is a five year warranty on it, but it should last you a very long time. It can brew up to 12 cups of coffee at a time, and the temperature remains at a high 196 degrees F after the brewing process is over. There are smaller models of this that offer less cups in one brew. The temperature is also completely controlled by the machine itself, which isn't very common in other brewers. Customers have been very happy with how well this product works and has lasted for them. They're extremely impressed with how quiet it brews, which is such a positive aspect to everything. It's also clear that customers really like the drip system. There is a manual drip stopper that immediately traps the extra coffee liquid in the stainless steel basket that is inside this machine. This is a handmade product that is very high quality. If you're looking for something that will be beneficial to you, and last you a lifetime, then look into this product today! Buy It Here!