*This post may contain affiliate links. As an Amazon Associate we earn from qualifying purchases.
Most people often assume that the best home espresso machine costs a lot of money. Because of that, coffee lovers don't even consider getting themselves an espresso machine. To get the energy jolt they need, people would drop by Starbucks every single day and spend at least $5 for a decent cup of coffee.
If you love professional-quality coffee but hate spending hundreds of dollars a month on it, we highly recommend that you buy an espresso machine. Believe it or not, you can get a good quality machine for less than $100. No kidding.
When shopping for an espresso machine, you need to consider the cost, build quality, longevity, your needs etc. Because of this, finding the perfect coffee maker can prove to be a difficult endeavour. How do you choose the best home espresso machine?
To make the buying process a lot easier and help you make an informed decision, we have listed 4 budget-friendly espresso machines in the market. These models have garnered high remarks from reviewers on Amazon.
Mr. Coffee Automatic Dual Shot Espresso/Cappuccino Maker (ECMP50)
Image Source:www.getacoffeemaker.com
Price: $58.75
If you are on a low budget, and you're looking for an introductory espresso machine that will allow you to make espresso at home, this little machine from Mr. Coffee is a nice place to start with.
Mr. Coffee offers a wide variety of espresso machines that use pump or steam. This particular machine makes use of a 15-bar espresso pump system for high performance. Other useful features include the 40 oz. removable water reservoir and thermal block heating system that heats water quickly. It comes with a dual-shot brewing that allows you to make 2 single shots at once. Considering the price of this equipment, this would be worth buying.
With this inexpensive espresso machine, you can make decent coffee, cappuccino and latte at the comfort of your home. Sure, it gets the job done but the end result may not satisfy espresso lovers. The machine has weak pump unstable brew temperatures, which leads to inconsistent espresso quality.
Delonghi EC155 15 BAR Pump Espresso and Cappuccino Maker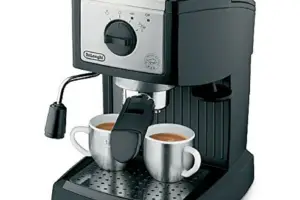 Image Source: www.lovemycoffeecup.com
Price: $99.95
Delonghi is a giant in the coffee world. They are known for producing some of the best espresso machines that won't put a hole on your pocket. The EC155 Pump Espresso Maker is one of them.
The EC155 is an entry-level machine. This would appeal to coffee lovers who are in search of affordable and compact espresso machine that provides the convenience of brewing their own espresso at home. With the EC155 Pump Espresso Maker, you can easily whip up some tasty espresso-based drinks without having to spend hundreds of dollars for a state-of-the art espresso machine.
Thanks to the dual thermostats and stainless steel boiler, this model delivers authentic Italian cafe drinks quickly and effortlessly. Other feature include 35-oz water tank, removable drip tray, filter basket, built-in tamper, 15 bar pump, and dual function filter holder.
Given the price, it can be difficult to pass up on this machine.  Coffee enthusiasts, however, may not be impressed by its erratic coffee quality. It lacks the temperature control and power to pull consistently delicious espresso.
Nespresso Pixie Espresso Maker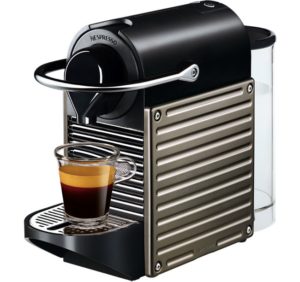 Image Source: www.coffeegearathome.com
Price: $171.75
Enjoying a sit-down breakfast while reading the newspaper is a luxury most people can't afford. If you only have a few minutes to spare in the morning and you're looking for an espresso machine that could make coffee very quickly, then the Nespresso Pixie Espresso Maker is for you. It enables you to make delicious cup of espresso in as little as 25 to 30 seconds.
Compact in size and affordable in price, this best home espresso machine is packed with features that would allow you to enjoy a cup of better-than-Starbucks espresso at home. No insane price, no line, and no tip. Plus, this machine is ideal for small spaces like flats or apartments. The width of this model is just 4.3", so it won't take up much of your counter space. You can't miss to have the Pixie in your kitchen.
In addition to speed, this machine makes a fabulous shot of espresso too. Unlike the first 2 models, the Pixie ensures that you get a consistent taste with every cup of espresso. Due to its small size, however, this isn't recommended for a large family. It can only make a single cup at a time.
Breville ESP8XL Cafe Roma Stainless Espresso Maker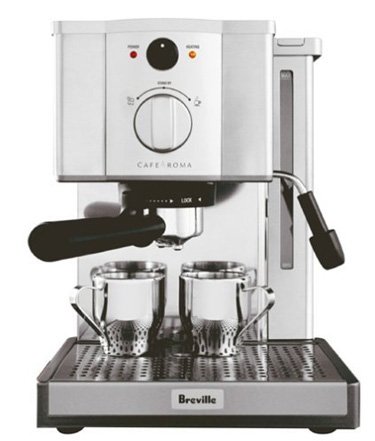 Image Source: www.coffeemakersadvisor.com
Price: $185
One look at this espresso machine, and we can guarantee that you'll fall in love with it. It has a bold, stainless steel design that gives this machine a well-constructed and sturdy appearance. Not only does it look great, it is also packed with amazing features that makes it one of the best home espresso machine out there.
With features like removable drip receptacle, 1 liter water tank, frother, dual wall filter and thermo block pump, this machine brews up the best tasting espressos, and do so consistently. It is easy to use and operate. Plus, it allows for experimenting. Both experts and novices will definitely love this. With this espresso machine, you can make the best espresso shots like a true barista.
If you are looking for a low-priced alternative to higher end Breville models, then this would be a viable option. It is a moderately priced machine that produces superior results every time. If you want something powerful and convenient at your home, choose the Cafe Roma. There are only a handful of inexpensive espresso machines that can compete with the Cafe Roma from Breville.
Final thoughts
Budget is an important factor to consider when shopping for the best home espresso machine. Although most people consider a cup of java as their guilty pleasure, some people aren't willing to spend hundreds of dollars for an espresso machine. Luckily, you don't need top-of-the-line espresso machines to get quality espresso.
You can enjoy a nice cup of espresso every morning without breaking the bank. For less than $200, you can get a good quality machine that gives you the convenience of making delicious coffee from your countertop.