*This post may contain affiliate links. As an Amazon Associate we earn from qualifying purchases.
Coffee beans are usually acquired in two ways – whole beans and pre-ground. If you prefer convenience, go for pre-ground. If you want to make the most flavorful coffee possible, whole bean coffee is the better option for you. The aroma and flavor in your coffee is stronger when you ground the coffee beans just minutes before you brew. But in order to make the best cup of coffee at home, you will need an espresso grinder.
A good espresso grinder is the key to making good quality coffee. You want a well-built grinder that can crush the coffee beans into consistently sized particles. No matter how expensive your coffee beans are, your espresso may end up tasting bitter or sour if the coffee beans were grounded unevenly. This is why you should consider investing on a good quality grinder.
Coffee grinders are not created equal. It is important to take into account the function, size material and budget when buying one. With that in mind, we made a list of the best espresso grinders in the market. Here, we included a selection of grinders at different price points to make it easier for you to find the perfect product that would meet your needs and your budget.
Without further ado, here's a list of the best coffee grinders for home use.
Hand Grinders
Coffee lovers tend to be picky about their grinds. When you find yourself on the go, finding a quality, fresh cup of coffee can be difficult to come by. By investing in a hand grinder, you can enjoy your favorite specialty coffee, even if you have to bounce around from hotel to hotel. They are small and lightweight, so you can carry one with you wherever you go.
Hand coffee grinders are a non-electric form of grinder. They are a bit trickier to use as compared to automatic grinders. They require a bit more effort to get even a small amount of brew under way. You'll need to work out your flabby upper arms to grind your own beans.
Hario Coffee Mill Slim Grinder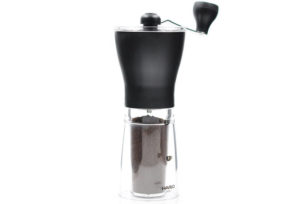 Image: www.knowyourgrinder.com
Price: $32
If you are in search of an affordable and compact grinder, then you're in for a treat. The Hario Coffee Mill Slim Grinder is a small, lightweight manual grinder. It's small enough that it can easily fit into your luggage and take it with you anywhere you go.
The Mill Slim Grinder includes a removable grounds bin, a lid hopper, and an easy grind adjustment. The ceramic burrs give you a variety of coffee grinds,
Porlex Mini Stainless Steel Coffee Grinder
Image Source:www.homegrounds.co
Price: $53
If you're looking for an espresso grinder with a stylish design, the Porlex may be right up your alley. It has a slender cylinder design that can easily fit into almost any suitcase. This is a great entry in the travel department. The Porlex features ceramic conical burrs that ensure consistent grind for perfect, fresh coffee.
Burr Grinders
There are 2 types of burr grinders – flat burrs and conical burrs. They work by crushing the beans instead of cutting them. The crushing action results in a more uniform grind and better flavor since it doesn't heat up the coffee beans as it grinds. Let's take a look at some of the best conical burr grinders in the market.
Bodum Bistro Burr Grinder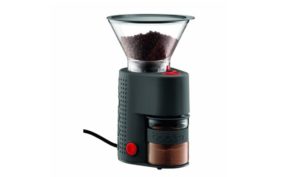 Image Source: www.gazettereview.com
Price: $100
The Bistro Burr Grinder is recommended for home brewers, who are just getting started. This little dandy is designed to produce a decently consistent grind. Most cheap grinders usually clog up with oily beans. This grinder will prevent you from experiencing this problem. It will keep on grinding up fresh coffee and keep the burrs from clogging up. As compared to other electronic grinders, the Bistro is relatively quiet. It is a very solid grinder for its price range.
One of the best things about making your own coffee at home is that you get to tinker around on your equipment and find what grind setting you want the best. The Bistro comes with 14 grind settings, so you can adjust the setting from fine to coarse.
Its attractive, modern design is sure to impress. However, Bodum has cut some corners with its internals. Although the burr itself is of good quality and is capable of producing uniform particles, the gears are made of plastic. They are likely to break or wear down over time.
Capresso 560 Infinity Burr Grinder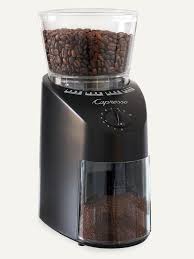 Image Source:www.thecoffeeconcierge.net
Price: $89
If you're looking for a great grinder at a budget-friendly price, look no further than the Capresso Infinity. It is an automatic burr grinder that packs 16 individual grind settings. It boasts a range of grinds – from super fine to coarse grinds. The Infinity sports a nice, slow grind so you won't wake everyone up when you turn it on. Plus, it keeps the grinds from heating up as well.
The Capresso Infinity has a storage container at the top for all your beans, and a capture container at the bottom for the ground coffee. Overall, it is a great grinder, and is one of the most affordable of its kind.
Barazta Encore
Image Source:www.homegrounds.co
Price: $129
The Barazta Encore is a sturdy, reliable espresso grinder that provides a good, consistent grind. It is an automatic conical burr grinder that comes with 40 different settings. It will give you perfectly ground coffee with just a quick twist of a knob.
The Encore is recommended for coffee enthusiasts who are not willing to spend a huge sum of money for a coffee grinder. It features a storage bin on top, a capture container at the bottom, and specially designed burrs for a flavorful, balanced extraction. Overall, the Encore is a great entry-level grinder for coffee lovers who are looking to brew coffee at home.
Blade Grinders
Image Source:www.cooknovel.com
Blade grinders are the cheapest type of espresso grinder. It works by cutting and smashing the beans, so the coffee beans are grounded unevenly. Often, you will find fine and coarse particles in the same batch. The grinds also end up being scorched and heated due to the intensity of the blades. As a result, the coffee doesn't taste that good. If you have the budget, we recommend that you opt for other types of grinders instead.