*This post may contain affiliate links. As an Amazon Associate we earn from qualifying purchases.
Most people who are beginning on their coffee journey would invest in a good quality espresso machine and then buy a cheap grinder. What most people fail to realize, however, is that grinding your coffee beans is an important step to achieving the perfect coffee. Investing in an automatic espresso machine or good quality coffee beans would be of no use without a good grinder. So if you want to enjoy good quality coffee at home, we highly recommend that you invest as much as you can afford in a burr coffee grinder.
A coffee grinder is an important piece of coffee gear. Coffee must be grounded precisely and evenly in order to extract the optimum flavors and get the best cup.  You need a solid burr coffee grinder that crushes the beans into consistently sized particles. This will expose the aromatics and volatile flavors concentrated in the coffee beans; thus, allowing you to obtain the best possible outcome. You will taste the difference once you invest in a good quality grinder.
A well-built burr coffee grinder doesn't come cheap. Prices usually start at $100 and others are way more expensive. However, not everyone is willing to spend a huge sum of money on such equipment. With that in mind, we decided to include some of the more affordable options on the list.
Here's a list of the best burr coffee grinder for every budget. These grinders will ensure you have the perfect grinds and great tasting coffee to start your morning with.
Breville Smart Grinder Pro
Price: $199.00
Whether you're just starting out or have been in the game for a while, you may want to look into the Smart Grinder Pro. This particular grinder is the third in Breville's grinder series. This model was designed with the promise of providing what other brands forgot to include.
The Breville Smart Grinder Pro offers a great number of coarseness settings. In fact, it has 60 different settings to choose from, giving you unmatched control. This grinder uses steel burrs to grind coffee beans into grounds that are suitable for a variety of brewing methods. It offers the ability to program your favorite setting and allows you to adjust the grind time within 0.2 second increments. One of the beauties of this machine is that it allows you to select the number of cups or shots. If you only want to make a single mug or cup, then that won't be an issue.
The Smart Grinder Pro looks inviting enough with its stainless steel design and LCD screen. It is compact as well, so it won't take up much valuable counter space. It also comes with an exterior plastic casing, which is hard wearing but also stylish.
Baratza Virtuoso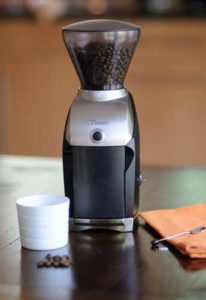 Price: $229
Most grinders on the list boast of having several features, settings, and grinding options. The Baratza Virtuoso, on the other hand, boasts simplicity and ease of use. But don't let it fool you into thinking that it won't be able to cover all your needs.
The Baratza Virtuoso features a wide range of easily adjusted settings. It is ready to grind from espresso to a coarse French press. However, the stepped settings limit you to set increments. This particular model is recommended for those who are interested in drip, pour over or those who are using a smaller, entry-level espresso machine. Although it can do espresso, it is incredibly limited to how dialed in you can get.
One of its most glamorous qualities is its compact, sleek design. If you want to make an impression on guests simply by the look of it, this is the one for you.
Overall, the Baratza Virtuoso provides a consistent, quality grind, classic style, and technical skill. It lives up to its expectations as one of the best burr coffee grinders in the market. It has also been awarded hundreds of raving reviews from coffee connoisseurs from around the country.
Capresso 565 Infinity Burr Coffee Grinder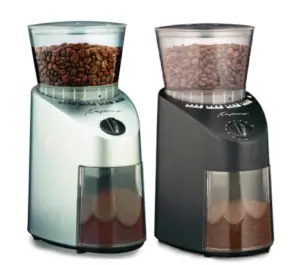 Image Source: www.seattlecoffeegear.com
Price: $119
If you are looking to get yourself a good quality but affordable burr coffee grinder, try the Capresso Infinity. When it comes to burr grinders, the Capresso 565 offers the best value for money. With a retail price of $119, it is one of the best budget coffee grinders available on the market. Despite the price, it is capable of doing what the more expensive grinders can do.
The Capresso 565 is capable of grinding up to 8.5 ounces of coffee beans. The coffee container, on the other hand, holds up to 4 ounces of the ground. This remains sealed during grinding. It is also equipped with a stainless steel conical burr, which is usually only found in a commercial grinder. It grinds coffee quickly and efficiently, making it a perfect choice for people on the go.
This grinder has 16 different settings. The dial is marked as 4 groups of 4 grind settings. This allows you to grind coffee for every type of brewing method – from pour over brewers, French Press, drip coffee and espresso. It also has the ability to grind extra fine to make Turkish coffee. This is an extremely rare feature for an automatic coffee grinder.
Hario Skerton Ceramic Coffee Mill
Price: $34.97
Back in the day, grinding by hand was the only way to get a fresh batch of coffee. But with the advancement of modern technology, we can now grind coffee with just a push of a button. But of course, the more advanced the features are, the more expensive it becomes. The Hario Skerton allows someone with even the smallest budget to leap into the world of manual coffee.
If you are looking for an economical grinder, but still demand a great quality grind for your coffee, get the Skerton. This particular model is equipped with powerful conical burrs that can handle any ground type, even as fine as Turkish. Since it is a hand grinder, there are no unnecessary features or confusing dials. It does what it's supposed to do, albeit with a little bit of elbow grease.
The Skerton is perfect for French press and espresso lovers provided that you don't mind putting in a bit of effort. It produces excellent grind in finer settings. But in order to produce a uniform grind on coarser settings, you'll need an upgrade kit.