*This post may contain affiliate links. As an Amazon Associate we earn from qualifying purchases.
The secret to making amazing coffee at home lies in the raw ingredients. Good quality coffee beans, when stored correctly, make rich, delicious cups of coffee. If you're shelling out $50-100 for a bag of coffee, you should at least invest in airtight coffee containers. Storing your coffee beans properly will help maximize freshness and flavor.
As a coffee lover, you probably treat yourself to a great bag of coffee every now and then. Since good quality coffee beans are hard to get by, you may be tempted to buy in bulk. Keep in mind, though, that they tend to lose their freshness after a while. But if you can't resist the urge to shop, then you need to learn how to properly store them.
Heat, light, oxygen, and moisture the biggest enemies of coffee. It loses flavory by simply being exposed to oxygen. Storing your coffee beans in airtight containers in a cool, dry place will ensure maximum freshness. Plus, you'll be on your way to making the best coffee at home.
Here are 6 of the best airtight coffee containers that is guaranteed to keep your coffee beans' flavor and freshness.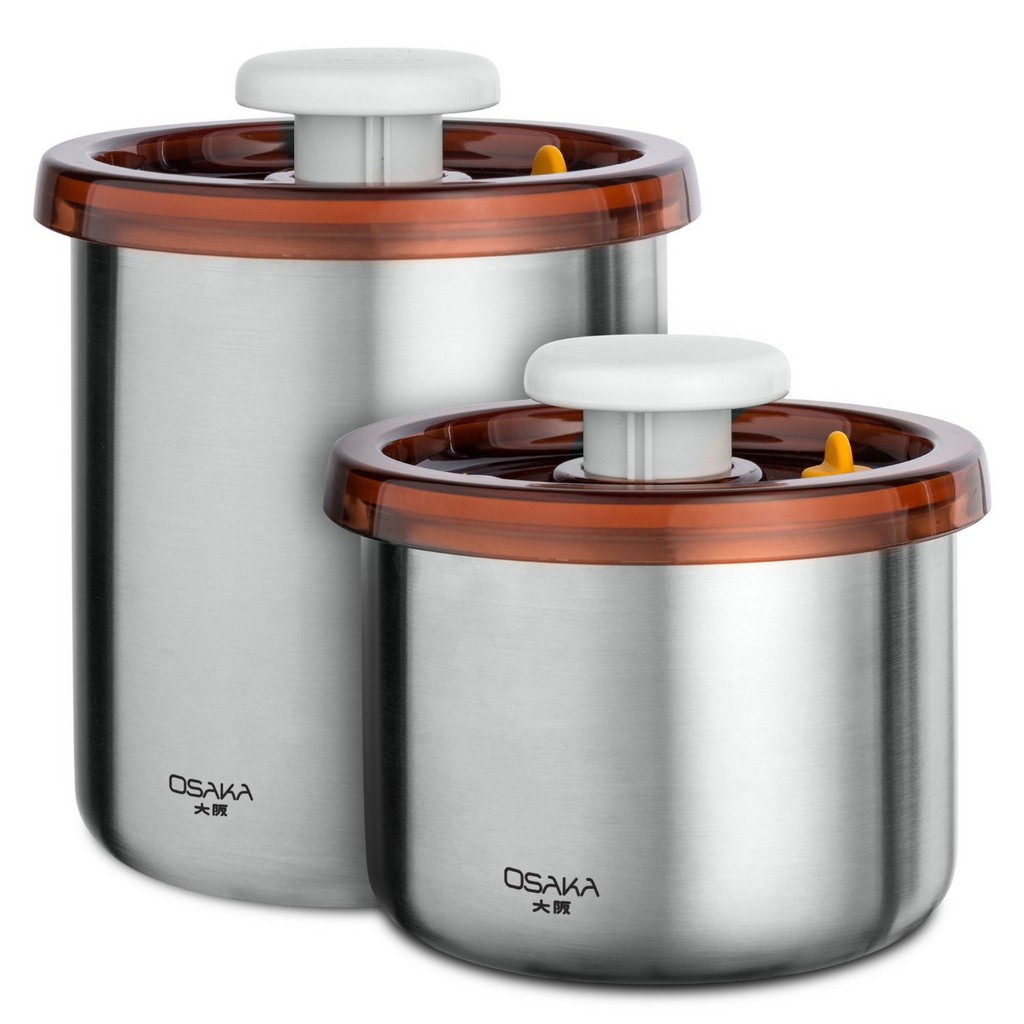 The Osaka Vacuum Sealed Coffee Canister has a stainless steel body.  The lid is made from plastic and silicone, and is heavily tinted. These features are intended to keep light, moisture, heath, and UV rays out. Not only is it nice-looking, it also does a job of preserving the flavor and aroma of your coffee.
This coffee storage container comes with a built-in pump that makes it easier to store your coffee. Simply pump up and down, and then twist to seal. If you usually buy pre-ground coffee, we recommend that you place the coffee package itself inside the container. Otherwise, it will get sucked in the vacuum.
[amazon box="B01BN36B7I"]
Whether you prefer whole or pre-ground coffee, the BlinkOne coffee container will keep it fresh by eliminating any risk of oxidation. This canister uses an airtight silicone seal that has the ability to isolate steam, moisture, heat, and light to the max; thus, preserving the flavor and aroma of coffee.
This BlinkOne canisted is a multipurpose container that can be used for storing coffee, tea, sugar, and other perishable ingredients. It also comes with a built-in magnetic scoop, and can hold up 18 ounce of coffee or other ingredients. The container is made of stainless steel, so you never have to worry about carbon dioxide, moisture penetration, and air leak ever again.
[amazon box="B000VJ7C2E"]
Light will ruin your coffee, and placing them in a see-through container will make the coffee beans go stale quickly. Now, you're probably wondering why we included a see-through container on the list. This is because it's now an ordinary container.
The Good Grips airtight coffee containers from OXO is tinted. As such, it has the ability to block as up 99% of UV rays. That means, those harmful UV rays won't go through. It protects the content from light. It is also airtight, which protects your coffee from oxygen and moisture.
Theses OXO containers are stackable and space-efficient. They will work well for those with limited kitchen space. Not only will it help keep your coffee fresh, they will also help keep your kitchen organized.
[amazon box="B00UMXUTGU"]
Oxygen will ruin your coffee. The longer it is exposed to the air, the more quickly it loses its flavor and aroma. EVAK airtight coffee containers get takes the air out of the jar and away from your coffee. Simply push down on the lid as far as it can go, and the air will be evacuated out from the container. You will hear a woosh sound as the air as it sucks all the air out of the jar.
The EVAK coffee storage container is made from heavy duty borosilicate glass and stainless steel. It is a great-looking product that will complement most kitchen decors. It is built to the highest standards and keeps your coffee fresher longer.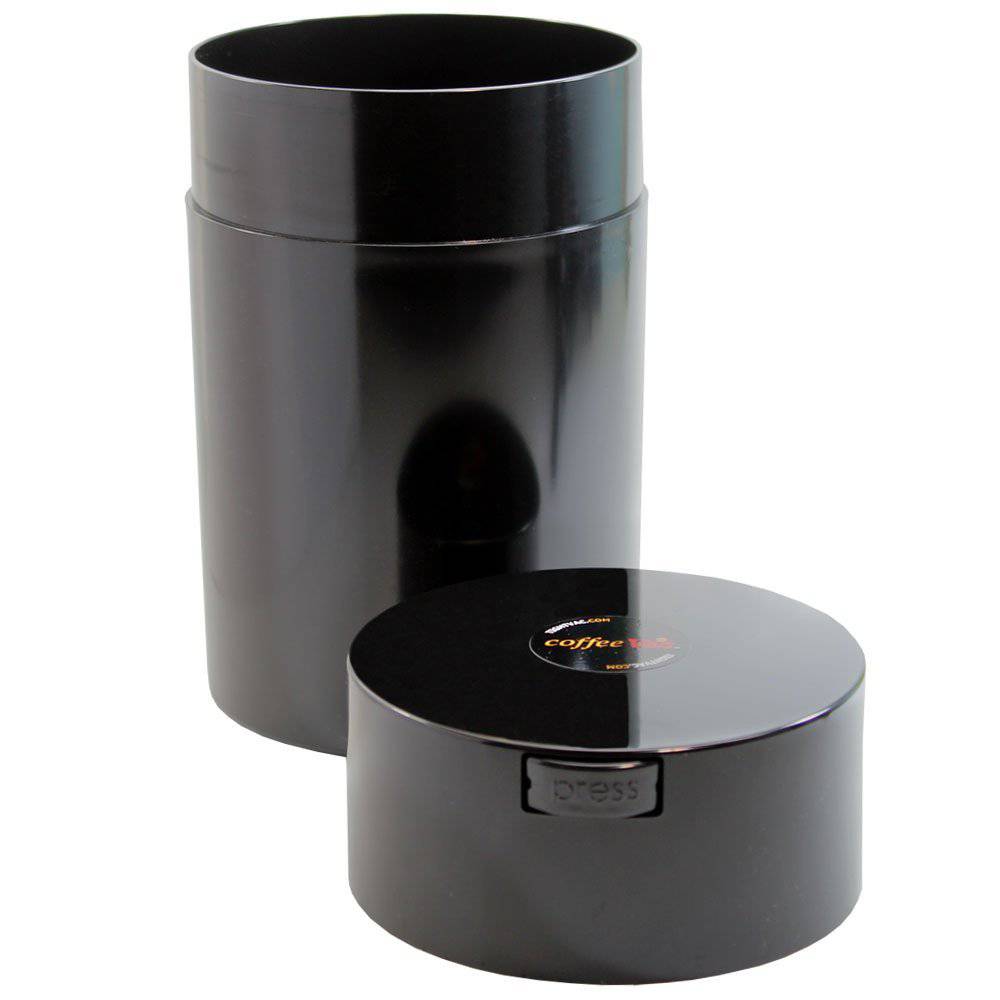 The Coffeevac comes equipped with an easy push button system that allows carbon dioxide to escape slow while keeping the oxygen out of the container. The elements cannot enter unless you open the lid. It will keep coffee and other ingredients fresh and edible for long periods of time. It is also protective of coffee's flavor and aroma. Because of the coffeevac patented system, it was dubbed as the ultimate vacuum sealed coffee container.
The Coffeevac Vacuum Sealed Container is quite large and can hold about 1lb of coffee and 10 to 16oz of tea. It is available in 6 different colors, so you can choose one that will complement your kitchen interiors. Also, the container is solid and tinted. It protects your coffee and tea from light. That means, you are free to store these airtight coffee containers in the pantry or on the countertop without affecting the quality of your coffee.
[amazon box="B014HG645M"]
You have paid a premium price for your coffee, so you should be able to drink it at its prime. This coffee container will keep your coffee safe from flavor destroyers, so you can enjoy delicious coffee at home whenever you please.
Coffee Gator may be a newcomer in the world of coffee equipment, but it does a great job of preserving the freshness of your coffee. It has a one-way valve that vents carbon dioxide upward and onward while preventing oxygen from attacking the beans. This coffee vault will preserve your coffee until the perfect time for brewing.
The Coffee Gator comes in a variety of size and colors. There are small, medium, and large airtight coffee containers that can hold about 11 to 19.5 ounces of coffee. The container comes in more than stainless steel. The exterior can be matte or shiny, depending on the color you choose. Its stylish design brings barista-cool to your home. What's more, the package comes with a free scoop and coffee book.