*This post may contain affiliate links. As an Amazon Associate we earn from qualifying purchases.
There is nothing like a rich, steaming cup of coffee to start the day. As a coffee enthusiast, a coffee maker is probably one of the most important appliances you have in your home. Just because it is a necessity, it doesn't mean you should settle for the traditional ones. Make your coffee brewing experience more exciting by investing in unique coffee makers .
These unique coffee makers will not only be a sight to behold in your kitchen, but they will also help you make great tasting coffee in the comfort of your own home.
Here are eight unique coffee makers that will take your daily brew to a whole new level.
Rok Presso Manual Espresso Maker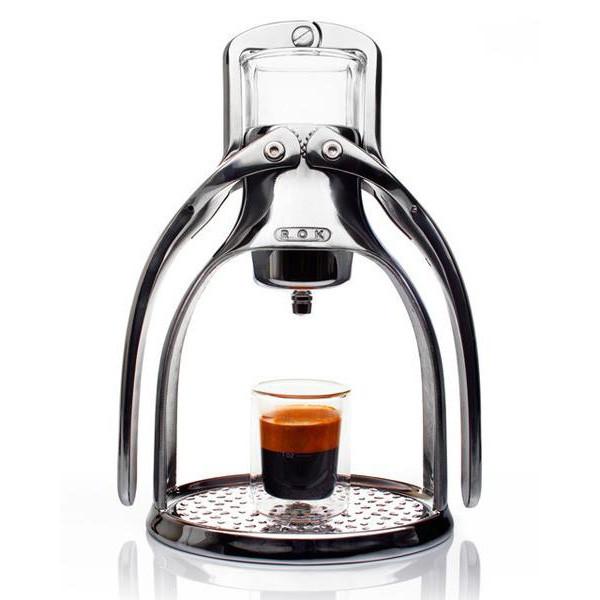 Image Source: https://presso.co.nz 
Price: $249
As the name suggests, Rok is a manual espresso maker. It uses no electricity and puts you in control of every step of the brewing process.
This London-designed espresso maker was designed with traditionalists and espresso enthusiasts in mind. The coffee maker was made with durable engine-grade metal that is guaranteed to last for more than a decade. It also comes with a stainless steel milk frother, so you can easily make macchiatos, cappuccinos, and lattes at home.

Canadiano Premium Pour-Over Coffee Maker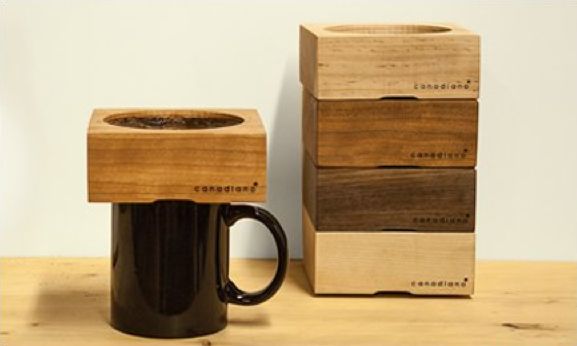 Image Source: https://www.trendhunter.com 
Price: $74
If you're looking for unique coffee makers that are both beautiful and functional, you may want to consider the Canadiano.
Canadiano is an elegantly designed pour over coffee maker. Carved out of White Oak, Cherry Walnut, and Maple lumber, the Candiano has been a design icon since its inception in 2013.
The Canadiano has a metal filter, so you never have to use paper filters again. Ideally, it should be used with only one type of coffee. This wooden piece absorbs oils and aroma from specific coffee beans, which will enhance the coffee brewing experience.
Overall, this woodblock brewer doesn't only look great; it also provides a fun, untraditional pour-over experience.

Bodum Pebo Vacuum Coffee Maker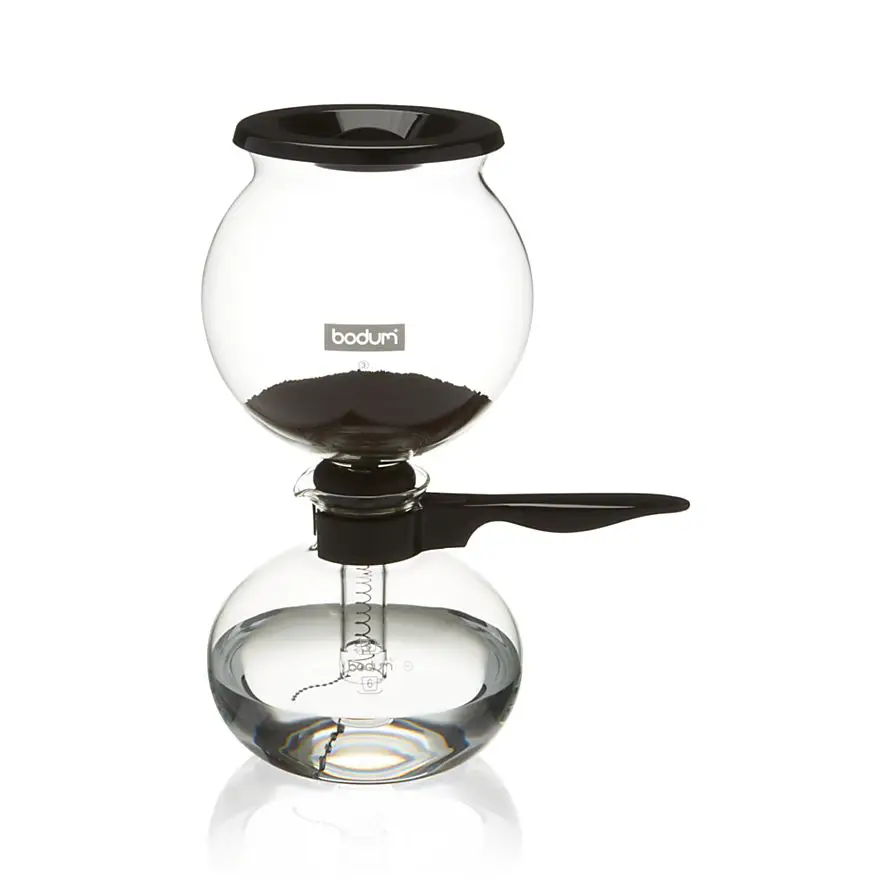 Image Source: http://mlinprodukt.com 
Price: $80
The Pebo is one of the unique coffee makers in the market. It looks like a cross between a science experiment and a coffee maker. It converts the ordinary brewing process into an artful performance. Guests will be amazed when you put it to use. It's like watching a Science experiment in action.
Despite its small stature, the Pebo brews up to 8 cups of coffee. The coffee maker is easy to use. There are no tiny parts to pull out or complicated buttons to push. It's just you, your favorite coffee beans, and the filter.

Trinity One Coffee Brewer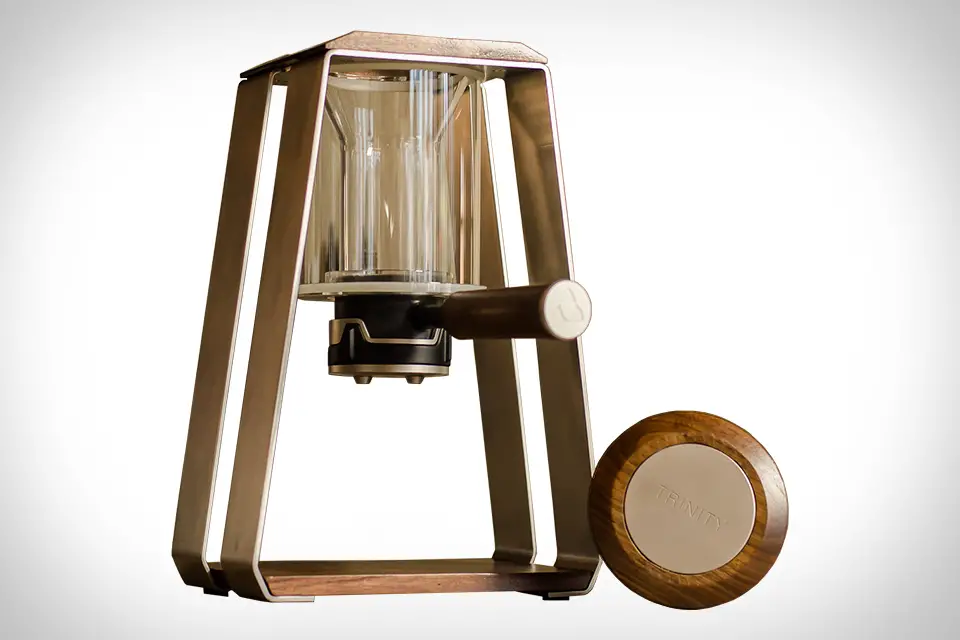 Image Source: https://uncrate.com 
Price: $300
The Trinity One is an elegant, minimalist coffee maker that allows you to make specialty coffee at home. It boasts a classy and high -quality build. It is made with stainless steel and black walnut timber finish. This stunning coffee maker was designed to be on display, not hidden away.
The Trinity One is a great choice for coffee lovers who prefer a selection of non-traditional brews. With this unique coffee maker, you are not limited to drip alone. In fact, it has the tools you need to brew coffee via cold brew, air press or pour over. Overall, the Trinity One provides a functional, minimalist brewing experience and reduces bench top clutter.

Oxx CoffeeBoxx Single-Serve Coffee Maker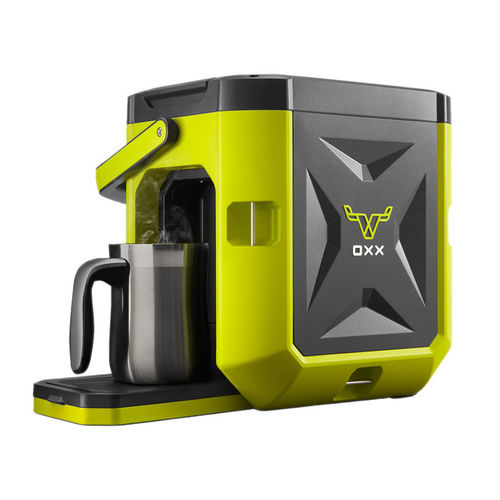 Image Source: https://www.brookstone.com/ 
Price: $300
If you're in search of unique coffee makers that will hold up to the challenge, look no further than the CoffeeBox. This coffee machine was designed with the working man and women in mind. It is impact-resistant and has a crush -proof chasis with a 1,500 lb. load rating.
The CoffeeBox is engineered to withstand the elements. Whether you're on a campsite, job site or anywhere where the going gets tough, it will deliver a steaming cup of coffee no matter how harsh or how intense the environment.
The CoffeeBox is compatible with K-Cups, so you can still enjoy your favorite blends and brews. It also comes with a 2.5 L water reservoir,

Piamo Single-Serve Espresso Maker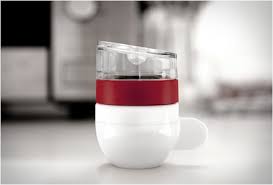 Image Source: https://www.blessthisstuff.com 
Price: $53
Coffee machines can be bulky and take up a lot of counter space. Some can be a tad overwhelming. Piamo is the world's smallest coffee machine. It also allows you to make a shot of espresso in a jiffy.
This tiny coffee maker consists of a cup, water chamber, filter inlay, and filter cap. It brews an espresso inside the microwave in just 30 seconds. All you have to do is to fill the chamber with water, put in espresso grounds, assemble the parts, and then microwave for 30 seconds. Voila! You now have ready to drink espresso.

Dutch Lab Akma 3000 Coffee Machine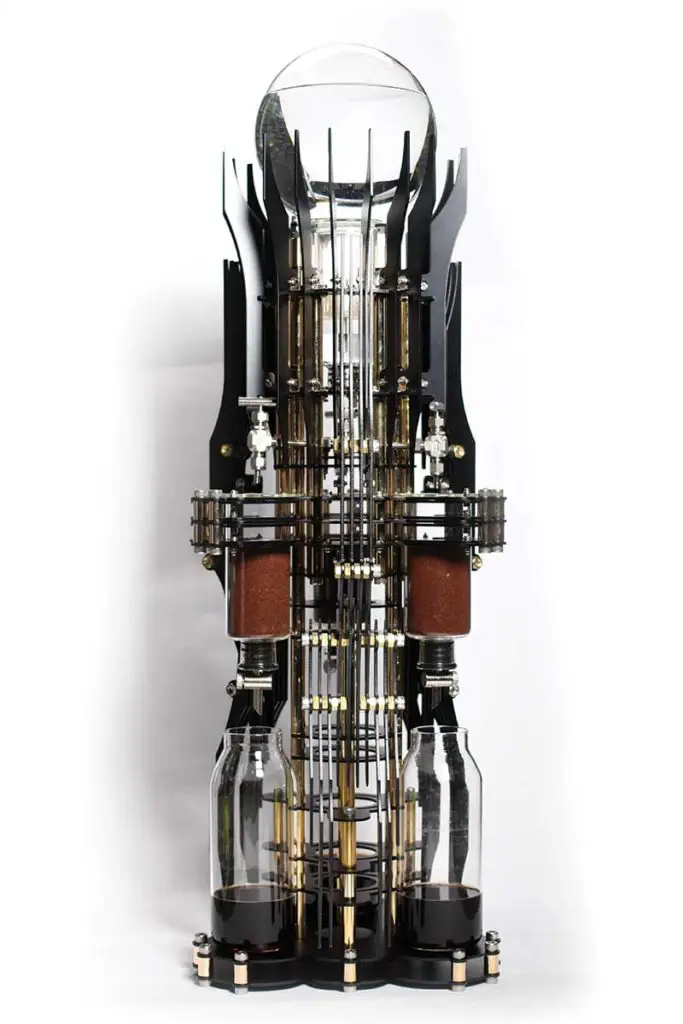 Image Source: http://www.dutch-lab.com 
Price: $5,400
Following the gothic theme, the design and build of this coffee maker was based on supervillain characters. Creators and designers added a dark aura and mysterious concept to the AKMA, making it sound dangerous and even evil.
AKMA's sharp design and dark color give it a fictional and fantastic evil concept. The primary material consists of aluminum, preventing it from rusting. This one-of-a-kind coffee machine features three coffee tanks, 3-liter water tank, and three coffee servers.

Scanomat TopBrewer Coffee Maker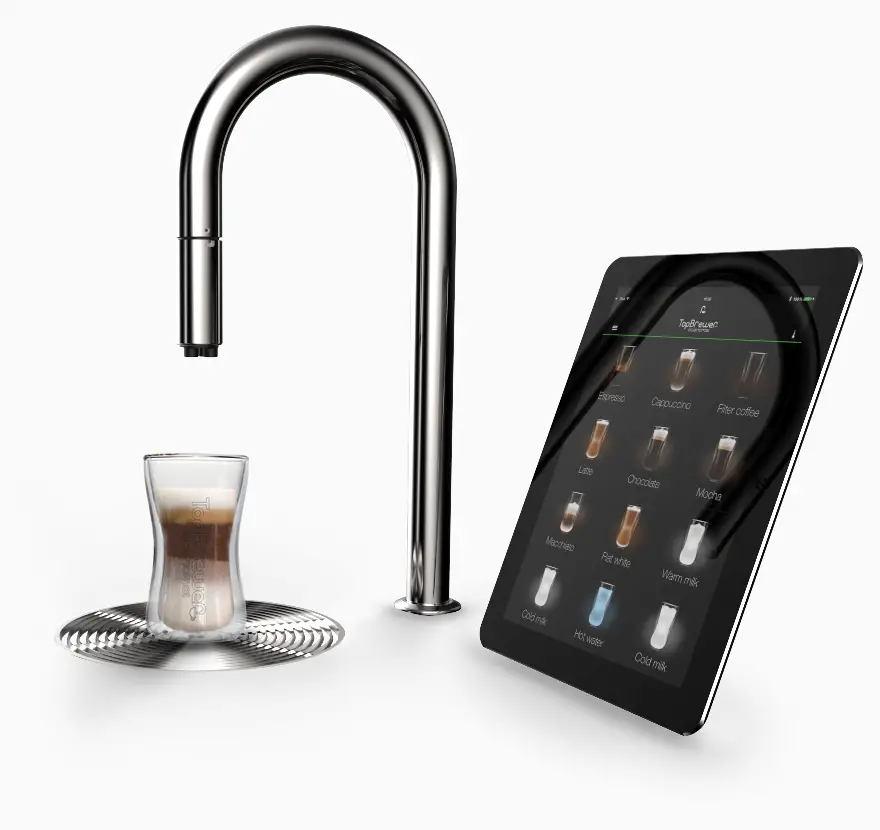 Image Source: https://eat-drink-sleep.com 
Price: $11,000
Are you ready for some high-tech coffee brewing? If so, then the TopBrewer would be an excellent choice for you.
Scanomat has created a revolutionary way to brew a cup of coffee. The TopBrewer is an app-controlled tap that dispenses coffee from freshly ground beans. It is designed to be built into any tabletop and dispenses your coffee out of a faucet. It also brews your favorite coffee beverage with the help of your smartphone, tablet or Apple watch.
With a stylish black interface, eye-catching suite of icons, and improved user experience, the TopBrewer is designed to meet the needs of today's coffee enthusiasts. This top-of-the-line coffee maker will give your kitchen some perk, your wallet a jolt.