*This post may contain affiliate links. As an Amazon Associate we earn from qualifying purchases.
Cappuccino is a single shot of espresso with steamed milk and a meringue-like milk foam on top. It's like a rich milky mug of heaven. Sadly, making a barista-worthy cappuccino can be a hassle. Home baristas tend to shy away from cappuccinos, thinking it's just too delicate of a dance and is beyond their grasp. But with some practice and the best cappuccino machine, concocting your own frothy mixture is achievable at home.
The secret to a stunning cappuccino starts with a great shot of espresso and properly frothed milk. In order to whip up good quality cappuccino at home, you will need a reliable espresso machine with a milk frother or a steam wand.
Here are 7 dedicated coffee machines that will help you make the most velvety, rich cappuccino. While many of these options make great espressos and lattes, our goal is to help you find a coffee machine that will allow you to make great-tasting cappuccino at the comfort of your home.
Mr. Coffee Cafe Barista Cappuccino Machine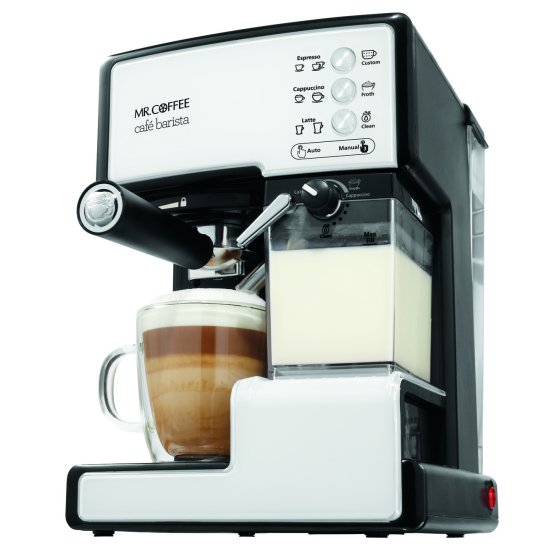 Image Source: https://www.amazon.com
Price: $200
Whether you want pure espresso or you're looking for a machine that mixes the milk for you without much fuss, the Cafe Barista is perfect for you.
You don't need barista know-how to create custom coffee drinks like your favorite coffee shop. The machine has 3 dedicated buttons – one for latte, one for cappuccino, and one for espresso. In one simple touch, you can make rich single or double-sized espressos, lattes, and cappuccinos. The machine automates much of the process, so you can just relax while waiting for your coffee.
With Mr. Coffee Cafe Barista, you can create impressive coffee drinks at home just the way you like them. Considering its price, we think that the Mr. Coffee Cafe Barista is a great budget machine.
Nespresso Lattissima Plus Original Espresso Machine
Image Source: https://www.williams-sonoma.com
Price: $333
If you think making cappuccino is hard, then think again. With DeLonghi's patented milk container and Nespresso's patented coffee capsule technology, it's never been easier to create authentic Italian drinks. Single touch system helps you create the perfect cup of coffee or espresso effortlessly. One button is all it takes to enjoy rich macchiatos, creamy lattes, bold cappuccinos, and exceptional espressos.
With this cappuccino machine, you, your family and friends can enjoy delicious lattes and cappuccinos anytime. Be your own barista with the Nespresso Lattissima Plus.
Mr. Coffee ECMP50 Espresso/Cappuccino System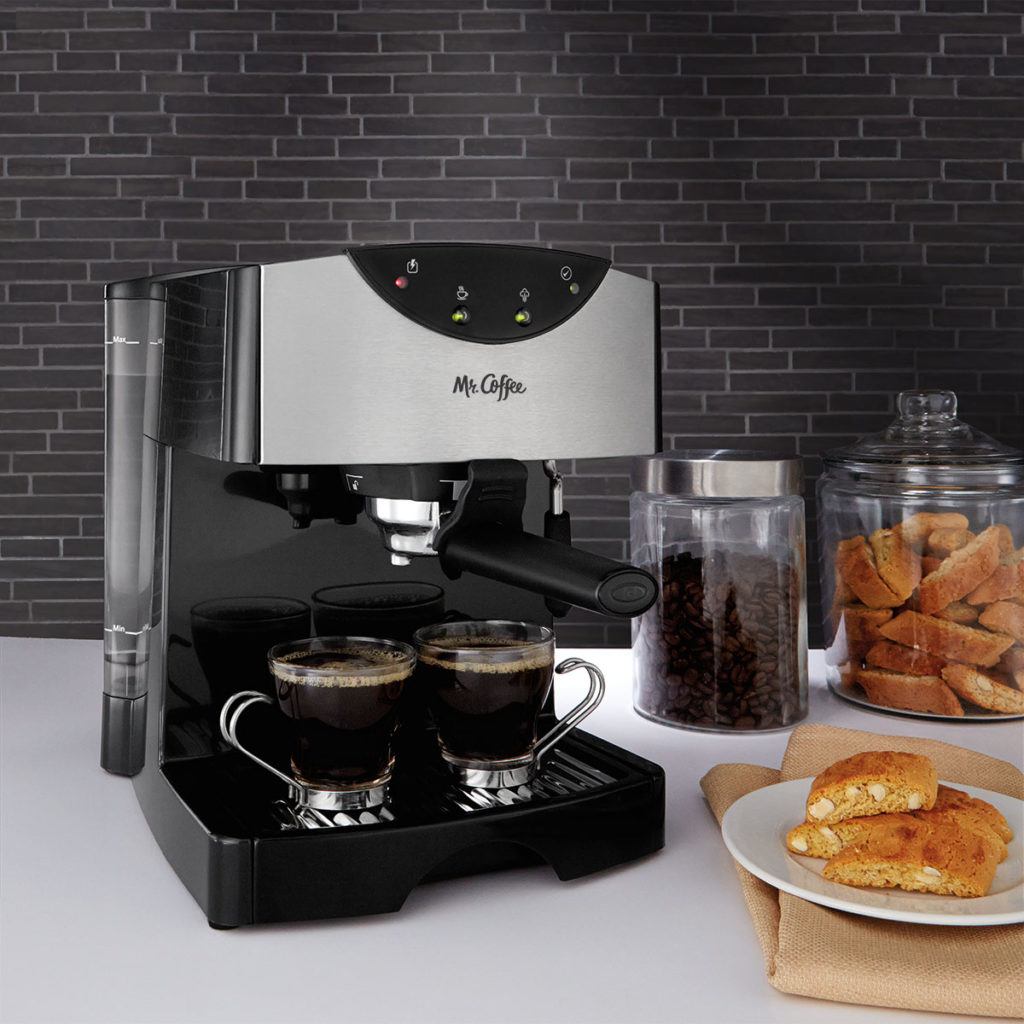 Image Source: https://www.mrcoffee.com 
Price: $130
Despite its low price, this machine packs the professional features you need. This espresso maker has a thermal block heating system that provides barista-speed heating and brewing. Removable 40 oz. water reservoir makes filling easy. It also has single and double cup portafilters to deliver perfect-tasting coffee every time.
Packing a 15 BAR in a sub-$100 package, the Mr. Coffee ECMP50 provides best bang for your buck. It uses powerful pressure to extract dark, rich espresso brew. Frothing arm makes creamy froth to top off your lattes and cappuccinos.
For the price, we chose the Mr. Coffee ECMP50 as our best value pick.
Saeco Intelia Cappuccino Deluxe Automatic Espresso Machine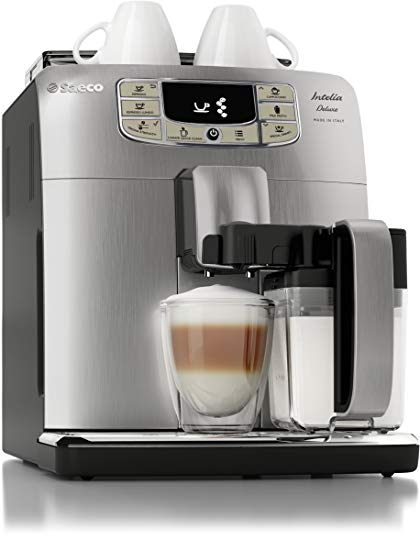 Image Source: https://www.amazon.com 
Price: $1,299
Inetlia Deluxe is a great, well-rounded machine that is ideal for novices and coffee geeks who are looking for convenience. This unit comes with a wide variety of features that make it a great cappuccino maker for even the most discerning tastes.
Robust ceramic grinders guarantee ideal grind, which helps extract the purest essence of the beans. Thanks to the Quick Heat Boiler, you can brew perfect espresso and cappuccino without the wait. The milk frothing system allows you to enjoy a creamy and delectable cappuccino every time.
From espresso to cappuccino, there is an assortment of options waiting to satisfy your coffee cravings.
Breville BES870XL Barista Express Espresso Machine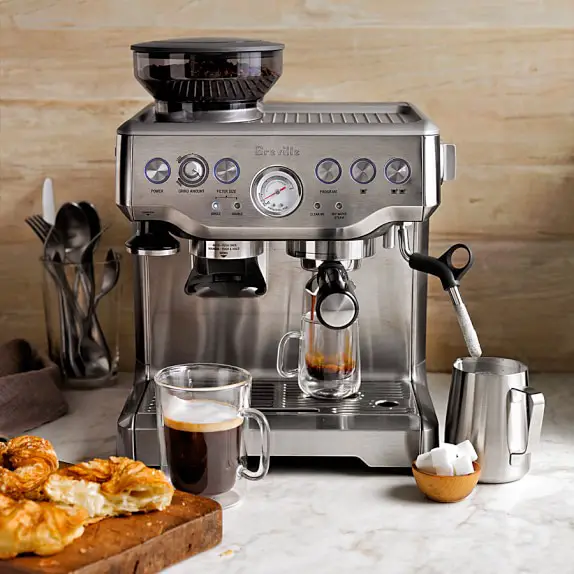 Image Source: https://www.williams-sonoma.com
Price: $574
Most espresso machines do not come with everything you need. As a result, home baristas end up buying a bunch of accessories to replicate barista style coffee found in cafes. This is not the case with the Barista Express. The semi-automatic Barista Express includes a stainless steel burr grinder, tamper, and frothing pitcher. The only thing you need to buy is coffee beans.
This top-rated espresso machine is stylish, functional, and ideal for home use. It allows you to make top-notch espresso and cappuccino at the comfort of your home. In fact, you can easily make cafe-quality beverages in under a minute, even if you're inexperienced. No wonder it is beloved by thousands and thousands of customers.
Ninja Coffee Bar Single Serve System with Built-In Frother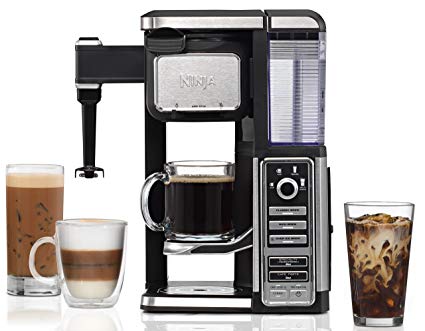 Image Source: https://www.amazon.com
Price: $190
This multi-use coffee machine provides an easy way for beginners to make fancy coffee shop brews at home. Ninja's advanced thermal flavor extraction technology allows you to unlock the full flavor potential of your favorite coffee ground.
The built-in frother turns it into a major contender as it transforms your milk to a silky microfoam; hence, allowing you to make a large number of coffee house brews at home. This coffee machine will bring out the barista in you.
KitchenAid Nespresso Espresso Maker with Aeroccino Milk Frother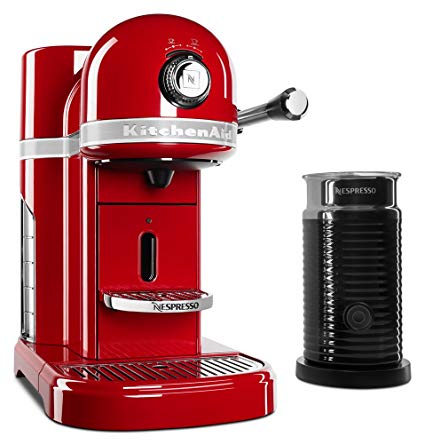 Image Source: https://www.amazon.com
Price: $450
This cappuccino maker combines the best of both worlds. You can use the pods to brew the espresso and use the wand to steam and froth milk separately to make delicious lattes, cappuccinos, and more.
Designed to create a hot cup of coffee at a touch of a button, this machine delivers beverages that are as smooth and delicious as the ones you buy at your favorite coffee shop. It has 6 pre-programmed settings for the strength you want. Adjustable cup shelf accepts small or large espresso cups and folds up for your convenience.
Thanks to its classic design and bright red color, this stylish cappuccino machine is definitely a showstopper.
Tips for buying a cappuccino machine
When buying a cappuccino machine, it is important to consider the type of machine that best suits your needs. If convenience and consistency is what you're after, then a super automatic machine is your best option. If you want to make your coffee manually just like a barista does, a semi automatic machine is best suited for you. For coffee geeks who want low maintenance and easy clean up, a pod machine may be just what you need.
The best cappuccino machine can cost several hundred dollars or more. But with the right technique and some practice, you can make stunning, tasty cappuccino right in your own kitchen. That means, you can stop visiting gourmet coffee shops and save tons of money in the long run.