*This post may contain affiliate links. As an Amazon Associate we earn from qualifying purchases.
There is a plethora of home espresso machines on the market. There are cheap, entry-level models and high-end models. While it's true that you can still pull a decent shot from cheap machines, I believe that the $500 price range is the sweet spot for home baristas who want a robust, well-built, machine and are expecting to make a rich and flavor coffee at home.
At this price point, you are no longer in search of entry-level options. Rather, you are interested in brewing authentic espresso, latte, and cappuccino in your own kitchen.
If you're looking for a sophisticated machine that will allow you to create coffee beverages that are as good or better than what you can get in you local coffee shop, keep reading.
Here are 6 of the best home espresso machines you can get for less than $500.
Breville BES810BSS Duo Temp Pro Espresso Machine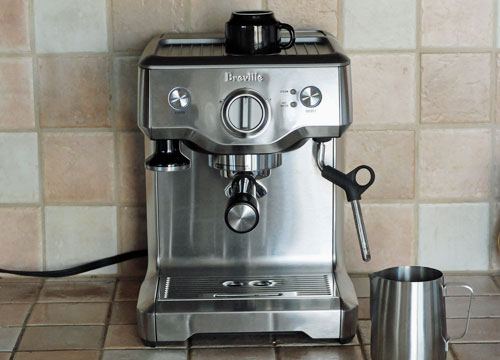 Image Source: https://www.coffeedetective.com 
Price: $380
Over the years, Breville has gained a reputation for creating solid espresso gears that feature new technology, but at a reasonable price point. If you're looking for a good espresso machine that packs a bunch of exciting technology, the Duo Temp Pro may be just what you're looking for.
The Breville Duo Temp is an advanced machine that packs some new and fancy technology without taking away the fun that hands-on brewing brings. Its simple controls are balanced with advanced features such as auto-purge, internal PID, and pre-infusion to create amazing coffee. It also comes with a non-pressurized and pressurized portafilters, allowing beginners a chance to grow into their machine.
Nespresso Lattissima Plus Original Espresso Machine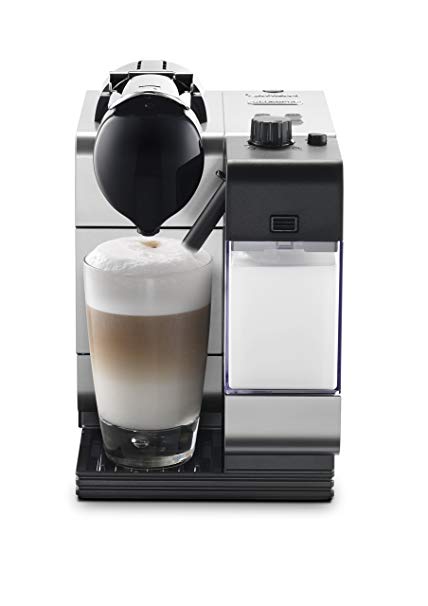 Image Source: https://www.amazon.com/ 
Price: $385
While we all aspire to be talented home baristas, sometimes, convenience wins. If you're looking for a fast, convenient way to make coffee, latte, and cappuccino at home, Nespresso's Lattissima Plus is the way to go.
Lattissima Plus is a user-friendly espresso machine that relies on coffee capsules. Simply load the capsule into the machine and press the button. It rules out the need for measuring spoons, grinder, bag clips, and airtight containers. With this machine, you'll get delicious espresso drinks in a jiffy.
Gaggia Brera Super Automatic Espresso Machine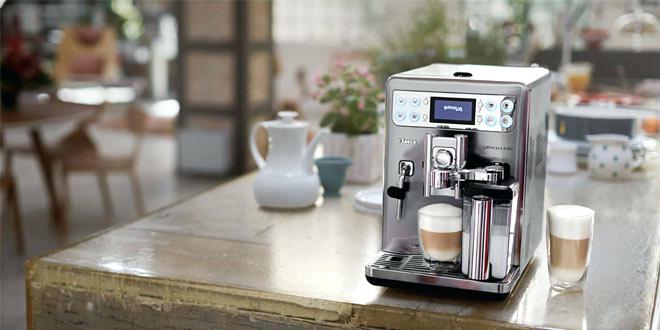 Image Source: https://www.amazon.com 
Price: $449
Gaggia Brera is a compact, super automatic espresso machine with automated brewing capabilities. It has more of the bells and whistles and takes full advantage of advanced technology. That said, you can expect a few more amenities from the Brera super automatic than you would with the Gaggia Classic.
Much like the Classic, the Brera is known for being a great value in its class. It is reliable and easy to use, producing shot after shot of specialty drinks to your personal specification. It also comes with an easily navigable LED display that makes programming simple.
Overall, the Gaggia Brera is a great, low-priced machine with tons of potential. It is a great option for coffee lovers who are eager to explore the fantastic world of specialty coffee, but don't have the budget for top-of-the-line machines.
Philips Saeco HD8645 X-Small Vapore Espresso Machine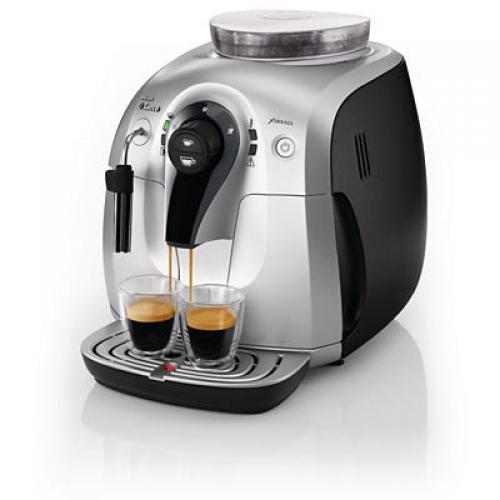 Image Source: https://www.philips.com 
Price: $446
The X-Small Vapore is a super-automatic espresso machine that comes with a host of features that allow you to customize both strength and consistency of your brew.
At $446, it is one of the most expensive models on the list. Given its hefty price tag, you should expect a lot from this guy. Features include 15-bar pressure pump, built-in adjustable ceramic grinder, integrated Pannarello steam wand, and optional pre-brewing system. Most importantly, it makes a damn good espresso shot. You will always get a perfect shot of espresso brewed according to your taste.
Unleash your inner barista with the Philips Saeco X-Small Vapore. Whatever blend of coffee you wish to try, you can easily make one at the comfort of your home. You can enjoy your favorite hot beverage like coffee, hot chocolate, and tea with just the press of a button.
Gaggia 1401 Classic Espresso Machine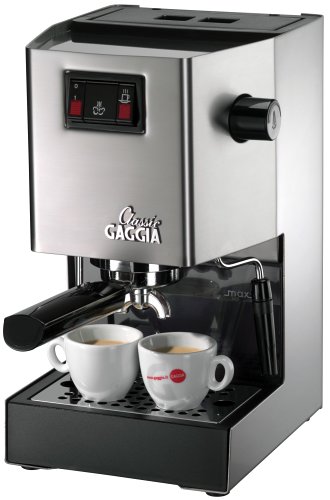 Image Source: https://www.amazon.com 
Price: $349
The Gaggia Classic is an evergreen, and for good reasons. This machine is one of the best home espresso machines Gaggia has manufactured so far. Plus, it has all the charms and finesse of an old-school Italian cafe.
Gaggia's beloved classic is specially designed to deliver a rich, Italian espresso, thanks to its commercial portafilter and group. It has a commercial grade 58mm group head and its water reservoir is 72 oz, which can be typically found in a bit more expensive models.
The classic is a great addition to any kitchen. It is an approachable entry-point into the world of espresso. With its rugged design and commercial-grade quality, this could be a reliable machine that will serve you well in the coming years.
Breville BES840XL The Infuser Espresso Machine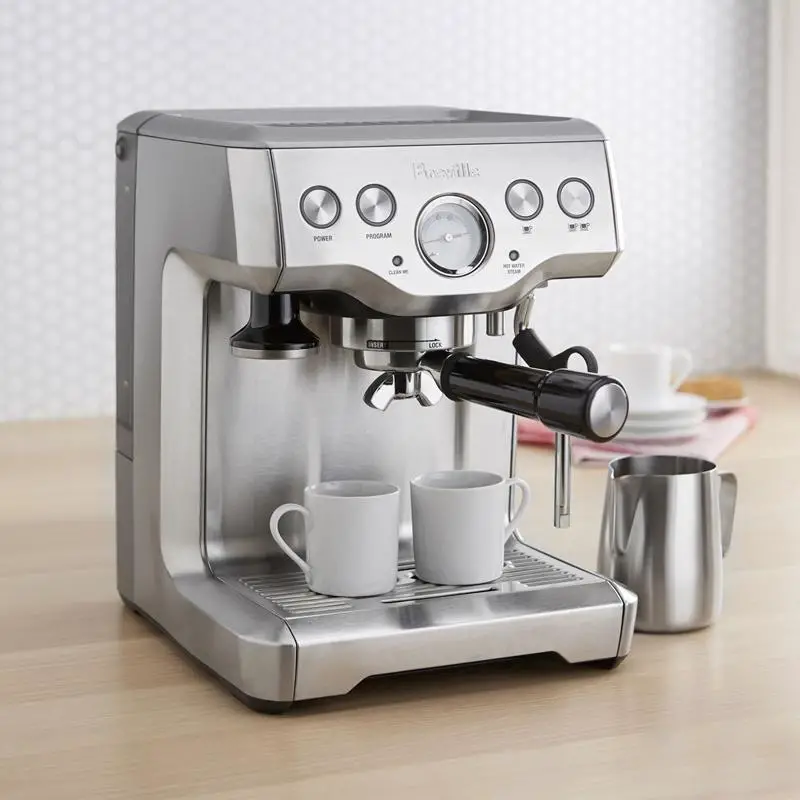 Image Source: http://www.forbestcoffee.com 
Price: $430
The Infuser is a semi-automatic espresso machine that is well-suited for espresso lovers who want a machine that offers control and stability without breaking the bank.
It got its name from the pre-infusion feature. It pre-infuses ground coffee with low, steady water pressure before extraction, gently expanding the grinds before increasing to full pressure. The result is a more even extraction, which produces balanced espresso flavor.
The Infuser has a 150-bar Italian pump, PID temperature control, and a 1600W thermocoil heating system. The thermocoil is one solid piece that will never leak. It also has better temperature control and stability. Another cool feature is the auto purge function. It automatically adjusts water temperature after steam for optimal espresso extraction temperature.
Shopping for the best home espresso machines
There is a wide range of home espresso machines on the market. Some come with basic features while others have more of the bells and whistles. In order to get the most out of your coffee machine, it is important to choose the one that meet you needs, desire, and budget.
With a $500 budget, you can get a sophisticated, good quality espresso machine that will allow you to explore the world of coffee. With some patience and a little practice, you'll be able to fill your cup with pure delight that rivals drinks from the finest cafes.