*This post may contain affiliate links. As an Amazon Associate we earn from qualifying purchases.
Espresso is referred to as a highly concentrated, bittersweet coffee. This specific beverage is prepared by forcing boiling water under pressure through finely ground coffee drink. Most espresso lovers prefer to drop by their local coffee shop for their daily caffeine fix because they think it's difficult to make espresso at home. Well, not if you own a semi automatic espresso machine.
There are different types of espresso machines, but a lot of people opt for a semi automatic espresso machine. Why? Because these machines are convenient and user-friendly. They allow you to brew consistently delicious cups of espresso with just a push of a button. Unlike super automatic machines, a semi automatic allows you to adjust the extraction process of the espresso shot. If you want to maintain a bit more control over the brew, this is the right one for you.
If you're ready to dive into the world of espresso making, then we urge you to read on. In this blog post, we have put together a list of some of the best semi automatic espresso machines on the market. These machines will definitely be a great addition to your home as you'll wake up every morning with fresh espresso.
Gaggia Classic Semi Automatic Espresso Machine
Price: $319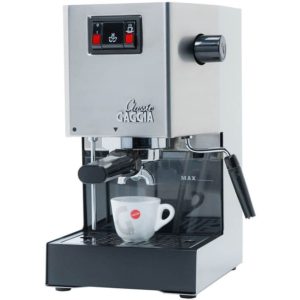 Image Source: www.wholelattelove.com
This is one of the best budget semi automatic espresso machines on the market. It may be an entry-level machine, but it is the company's best-selling model yet. Espresso lovers from all over the world love the Gaggia classic. We're sure will too.
This machine has stainless a steel body with plastic handles, knobs, and buttons. It has a refined and sophisticated look that complements any kitchen decor. The Gaggia classic comes with 72 oz water reservoir, a 58mm commercial group head, and a turbo frother attachment. It is also equipped with a 3-way solenoid valve that is designed to relieve the pressure that develops during the brewing process. This feature is often found only on commercial and prosumer equipment.
Overall, this is an excellent machine that produces great espresso. Despite being an entry-level machine, it is on par with some of the best espresso makers in the industry.
De'Longhi EC155 Espresso and Cappuccino Maker
Price: $80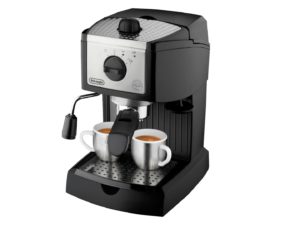 Image Source: www.delonghi.com
If you are looking for an espresso machine less than $100, the De'Longhi EC155 may be up your alley. This is the most affordable semi automatic espresso machine in our list, but don't let the price fool you into thinking that it's of poor quality. This espresso maker is a crowd pleaser. In fact, it is the number 1 best seller on Amazon, and has received thousands of great reviews from customers.
This machine comes with a stainless steel exterior that would complement any kitchen design. It is also compact, so it won't take up too much counterspace. The EC155 is especially designed to allow users to make the perfect espresso or cappuccino at the perfect temperatures. It comes with a removable water tank, a 3-in-1 filter holder, and a manual frother . Features also include the rapid cappuccino system that maintains optimal temperature, so you can brew cup after cup. No waiting in between cups. All these features give the user ease when creating a unique brew.
Breville Barista Express BES870XL Espresso Machine
Price: $565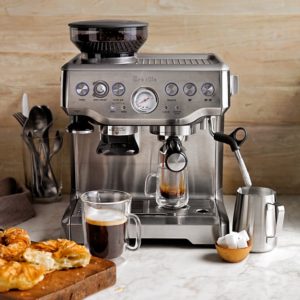 Image Source: www.williams-sonoma.com
The Barista Express means business. It comes with professional grade features such as swivel mounted steam wand, PID regulated temperature control, and 15 bar pump. It also equipped with an integrated conical burr grinder for hassle-free coffee ground dosing. It grinds beans right into its portafilter.
The Barista Express is user friendly and performs as well as higher end models. It offers just enough manual settings and adjustable controls that you feel like a barista when using it. This machine is recommended for those who want to make delicious cups of coffee at home and are willing to get their hands dirty in the process.
Skip the line and make delicious coffee at home with the Barista Express. This machine will unleash your inner barista.
Rancilio Silvia  Espresso Machine
Price: $685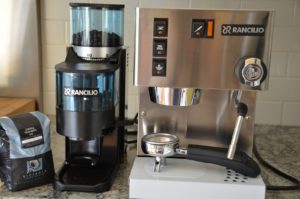 Image Source: www.lovelattereviews.com
This machine comes with a stainless steel casing with an exposed black powercoat frame. Don't let its traditional build fool you. The Silvia comes with a number of neat features that will provide you with the absolute best extraction and heating ability. This machine is equipped with 3 thermostats to ensure that the boiler, espresso, and steam heat are all on one page. It also comes with a removable 67 ounce water tank, a 15 BAR water pump, a 3-way solenoid valve, and a commercial grade chrome-plated steamer wand. With all these features, there is no denying that the Rancilio Silvia will certainly provide a lasting value to your home, office or business.
When shopping for a semi automatic espresso machine, you want to invest on a machine that provides the best bang for your buck and will last for a very long time. This machine will not disappoint. It is a durable, long-lasting and capable machine. It may be a bit pricey, but you'll get what you pay for.
Mr. Coffee Cafe Barista Premium Espresso & Cappuccino System
Price: $132.99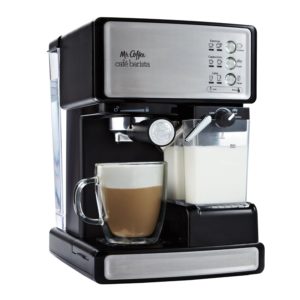 Image Source: www.espressomachines.club
Let's face it. Mr. Coffee has had a bad rap in the world of coffee making. Often, thoughts of espresso machines with cheap and poor build quality come to mind. Now, you're probably wondering why we included this on the list. Let's dig deeper into its technical features.
The Cafe Barista is an entry-level machine that doesn't come with too many bells and whistles. Because of its affordable price tag, it is often dubbed as the "poor man's espresso maker". This is ideal for those who are looking to buy their first espresso machine, but are not willing to spend a huge sum of money.
This machine does a respectable job when it comes to espresso. It makes surprisingly good espressos, and is also capable of producing frothy cappuccinos and milky lattes. The Cafe Barista is equipped with an automated milk frother that froths milk into cappuccino and latte selections. Features also include a 15 bar pump pressure, volume control and a removable milk reservoir that allows for easy storage. It is attractive enough to blend in with the decors of modern kitchens.
If you are looking for an inexpensive espresso machine that will allow you to make your favorite espresso beverages at home without having to do much work, then this one is for you.